One of British Airways' recently-retired Boeing 747-400s is to be preserved as a film set at an airfield 40km south of London Heathrow.
The aircraft (G-CIVW), manufactured in 1998, was parked in March having served its entire commercial life with the UK operator.
It will be transferred on 22 October from Cardiff to the aerodrome at Dunsfold, which already has a modified ex-British Airways and Air Atlanta Europe 747-200 (G-BDXJ) that prominently featured in the 2006 film Casino Royale.
British Airways says the Rolls-Royce RB211-powered aircraft will be delivered to the airport upon arrival, and that it will retain the livery it carried in service.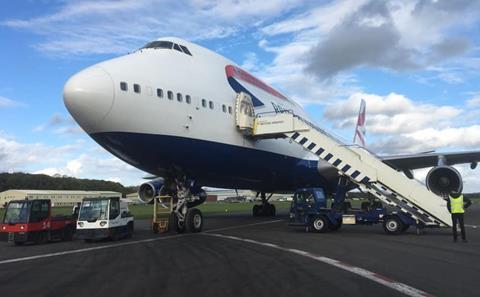 "While [this 747] will no longer fly, the aircraft will be preserved and given a new lease of life in the world of TV and film, training and special events," says Dunsfold aerodrome chief executive Jim McAllister.
British Airways says the aircraft will be used for "mock-up interior and exterior shots" and, in time, be opened as an exhibition for visitors.
It operated 11,424 cycles during its service, before being stored initially at Bournemouth and moved to Cardiff on 11 June.
Dunsfold, which serves as a heritage aviation park, has a single active runway of 1,880m, designated 07/25.