China's first Comac C919 bound for a customer has carried out its first test flight, with a 3h sortie from Shanghai.
The twinjet, powered by CFM International Leap-1C engines, lifted off from Pudong airport at 06:52 on 14 May.
Comac says the aircraft (B-001J) flew for 3h 2min, and that the flight was "successfully completed" after it landed safely at 09:54.
Scheduled tasks were conducted, it adds, and the jet demonstrated "good" performance.
The aircraft, painted in the airframer's livery, will be the first example of the type to be delivered to a customer.
"Preparations for the test flight and delivery of the C919 are progressing in an orderly manner," adds Comac.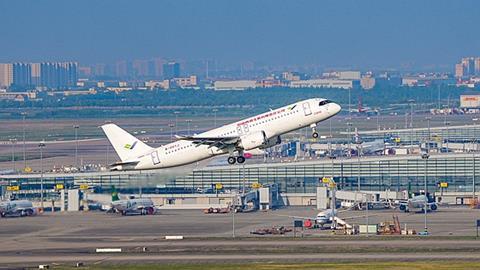 Six C919s have been carrying out test and certification flights for the programme, which has had to work around the difficulties of China's pandemic measures.
Comac had been aiming to deliver the first aircraft to launch customer China Eastern Airlines by the end of last year.