Ground tests have commenced with the first modernised Ilyushin Il-114-300, ahead of initiation of the turboprop's flight campaign.
The twin-engined aircraft has undergone low-power runs of its Klimov TV7-117ST-01 powerplant, developed by United Engine Corporation.
Russia's United Aircraft says it carried out the runs at the Zhukovsky flight-test base of Ilyushin, the company which heads the air transport division of the diversified aerospace firm.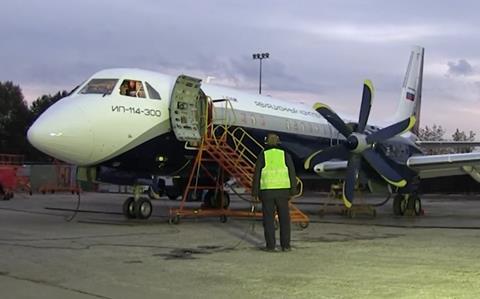 Il-114 programme director Maxim Kuzmenko says the installation of all systems and equipment has been completed, pointing out that these modern systems – most of which have been designed by Russian suppliers – represent the "innovative component".
Kuzmenko says the project to resurrect the Il-114 in the shape of the updated -300 variant has been subject to "tight deadlines".
The fuel system has been tested and operation of the engine was performed "in real conditions" for the first time, says United Aircraft.
It states that the prototype aircraft will move on to taxiing and runway tests, in preparation for its maiden flight.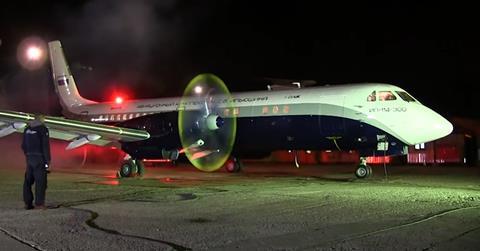 Manufacture of a second prototype, using serial production techniques, is being undertaken at the Lukhovitsy plant of RSK MiG, near Moscow.
Fuselage mating of this aircraft is being finalised at the automated assembly rig, to be followed by tail and wing attachment.
Deputy technical director of the Lukhovitsy plant Artyom Sukach says the assembly technology enables high-precision work – including alignment within hundredths of a millimetre – accompanied by a reduction in preparation costs.
The 68-seat aircraft is being manufactured through a co-operation between several aerospace plants including Aviastar, VASO, and MiG's Sokol facility, as well as Lukhovitsy.
Aviastar produces fuselage panels and doors, while VASO's output includes the wing, tail and engine nacelles.
United Aircraft intends the Il-114-300 to succeed Soviet-era Antonov types including the An-24 and An-26, as well as foreign models in the same category. It envisions the turboprop operating primarily in the domestic market, and offering connectivity to remote regions in Siberia and eastern Russia.