Frankfurt Main airport's passenger traffic is likely to reach 80-90% of pre-crisis levels this year, the hub's operator is forecasting.
The operator, Fraport Group, expects passenger numbers of 57-63 million over the course of 2023.
It disclosed the forecast during a full-year briefing, as it unveiled a group net profit of €167 million ($179 million), on revenues of €3.19 billion – a figure driven by strong passenger recovery.
The company is forecasting a net profit this year of €300-420 million.
Fraport says the improvement in its financial performance was achieved despite the one-off impact of its writing off its St Petersburg airport investment in Russia.
The company's full-year EBITDA reached nearly €1.03 billion.
Fraport is projecting an EBITDA figure of €1.04-1.2 billion for the current year. But it is proposing not to distribute a dividend for 2023 owing to the "continuing economic impact" from the pandemic.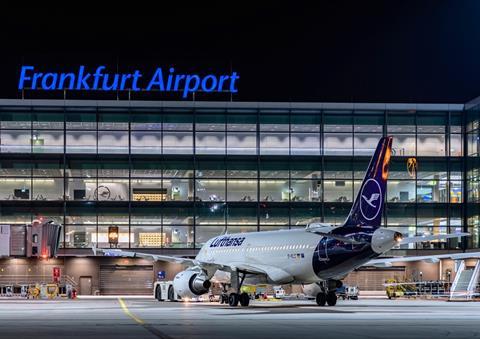 "We're moving in the right direction," says chief executive Stefan Schulte. "In the past fiscal year, we've seen particularly strong demand for air travel from leisure passengers and vacationers."
He says the company expects a 15-25% growth in summer passenger numbers compared with last year, and is working to mitigate a resurgence of disruption risk at airports.
"All process partners continue to be fully committed to ensuring that more resources are available for the upcoming travel season," says Schulte.
"Our primary goal is to maintain stable operations and enhance our resilience in responding to irregular situations.
"This remains a challenging task in view of the structural factors we are facing, such as the geopolitically-related airspace restrictions and the current constraints on the German labour market."
Fraport says it aims to hire another 1,500 personnel this year in the aircraft ground-handling sector, and it has "significantly expanded and accelerated" training programmes to meet the demand for higher-qualified staff.