Germany's defence ministry has received the second of three Airbus A350-900s intended for government transport duties.
The aircraft, MSN468, was delivered early last year ahead of cabin fitting by Lufthansa Technik.
It has been given the German armed forces designation 10+01.
Lufthansa Technik says the Rolls-Royce Trent XWB-powered twinjet has been fitted with a government cabin in Hamburg and will be used for parliamentary and political carriage.
The German ministry's special air mission wing has already introduced an A350-900 – MSN416, numbered 10+03 – which was equipped with a transitional cabin, ahead of being refitted with the full government cabin.
Lufthansa Technik says the installation of the full cabin was the "main focus" of the modification of MSN468, pointing out that it "differs significantly" from the interior of MSN416.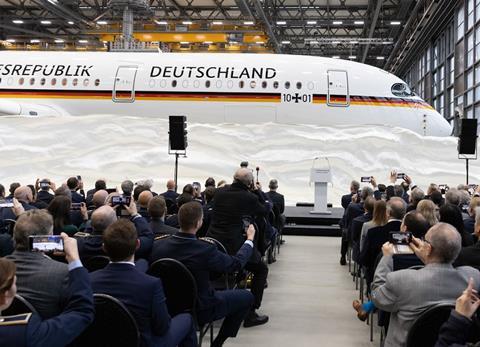 "In contrast to [MSN416's] open cabin design, the various functional areas for political-parliamentary flight operations are now structurally separated from one another – as was already the case with its two predecessors based on the Airbus A340," it adds.
"The remaining space in the cabin is available for the delegations traveling with the aircraft. It features seating with generous spacing, an appropriate number of washrooms and modern galley equipment."
Following the formal handover on 16 November, the aircraft will be transferred to Cologne before entry into service.
The twinjet features a slightly revised livery compared with the previous A350, with new lettering and the German national flag colours on the winglets.
Lufthansa Technik is modifying a third A350 – MSN526, to be designated 10+02 – and says the first aircraft will "soon" return to its facilities for the cabin swap.