London Gatwick airport's operator is asking creditors for short-term amendments to financing terms as part of its efforts to restructure the business to cope with the air transport crisis.
The operator says its reduced earnings for 2020 are expected to have a "significant impact" on relevant financial ratios, and it is requesting a waiver of any default on these ratios, and seeking amendments to the parameters used to calculate leverage covenants.
Gatwick's operator has turned in a net £321 million ($426 million) loss for the first half of the year.
It is forecasting that passenger numbers this year will be 65-70% below levels of 2019, which will mean a "minimal" earnings contribution.
The company says it has deferred £353 million of capital expenditure in 2020 and 2021 and saved over £100 million in operating costs – with £73 million expected to be permanent.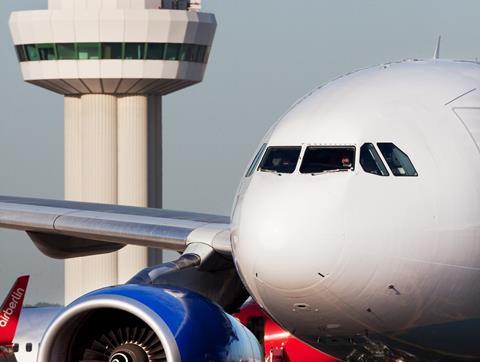 Gatwick has a "strong liquidity position", it states, having obtained a £300 million loan from a bank consortium in April, and it had a cash balance of £326 million at the end of June.
It is not planning to access the UK government's corporate financing facility, designed to support companies affected by the coronavirus crisis.
But it adds that ensuring such access would be "prudent", and it is requesting approval to issue up to £300 million in commercial paper through the facility should it be required.
The company is offering a "comfort package" to creditors, it says, in return for securing the amended financial terms.
This would include quarterly information on traffic updates, financial ratios, and liquidity forecasts, and the provision of remedial plans if the difference between available cash and required expenditure falls below certain limits.