Guangzhou Baiyun international airport has embarked on a fresh round of expansion, as part of plans to become an aviation powerhouse in China's Greater Bay Area.
The expansion project, which costs CNY54.4 billion ($7.98 billion), will see the airport add a fourth and fifth runway, a third passenger terminal covering 422,000 sq m (4.5 million sq ft), as well as 190 parking aprons.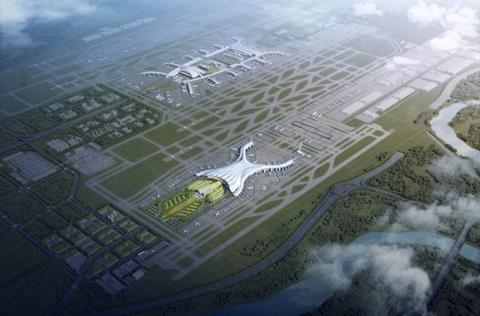 Other facilities expected to be built as part of the expansion include transport links and a new wing for Terminal 2.
Once the work is completed, the newly-expanded airport will be able to handle 120 million passengers annually, up 50% from its current capacity. Chinese media reports indicate the expansion project is scheduled to be finished by 2022.
The Civil Aviation Administration of China (CAAC), in announcing the expansion, says Guangzhou Baiyun will "benchmark" Beijing's newest airport — Daxing International — in its latest growth plans. This includes making use of "the most advanced airport construction technology" and creating a "new [and modern] international airport", says the agency.
The CAAC adds that the expansion of Guangzhou Baiyun will help "promote the coordinated development of the region", and create a "world-class airport cluster" in the Greater Bay area.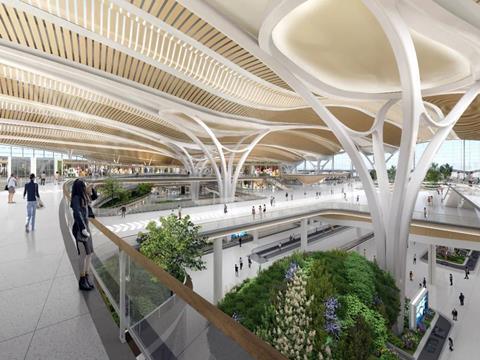 News of Guangzhou Baiyun's expansion comes about two years since it completed work on the second passenger terminal, now occupied by home carrier China Southern Airlines.
It also comes on the backdrop of a strong domestic air travel recovery in China, following the coronavirus pandemic.
Competiton has been heating up between airports in the Greater Bay region of Southern China, which includes Hong Kong, and the Chinese metropolises of Guangzhou and Shenzhen.
Hong Kong international airport has in recent months seen passenger throughput collapse, as travel restrictions limit the number of international flights to and from the city. As early as February, the airport had moved to consolidate flights into its main terminal, shutting a newer passenger concourse amid falling numbers.