Hamburg airport's operator is aiming to reduce bottlenecks in security queues and smooth passenger flow by encouraging departing travellers to book a specific slot for security checks.
The operator is offering passengers – and up to four companions – the opportunity to select a 15min slot online, up to 72h before departure.
Upon arriving at a specific entry point to security, at the allocated time, the passengers can scan their boarding card or a confirmation QR code to gain access.
Hamburg's operator says the service – branded 'Slot & Fly' – is free and available to all passengers, irrespective of airline and cabin class.
Only registered passengers can use the security entry point, located in Terminal 1, and only within the reserved time slot.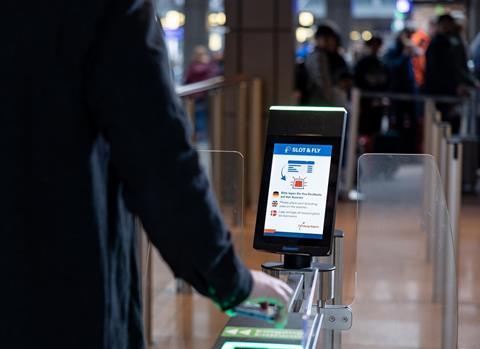 Hamburg airport chief executive Michael Eggenschwiler says the service is an "important building block", adding that it presents passengers with the possibility of avoiding long queues without compromising security.
"This allows passengers to plan more reliably how long they will spend at Hamburg airport, reducing the stress of their journey," states Hannover federal police department president Michael Schuol. He says the scheme also enables better co-ordination of security personnel.
Hamburg's operator points out that the number of passengers using the airport is rising, and that some 270,000 are expected weekly during the Easter holiday period.