Despite opposition from the Chinese Communist Party, in the past year and a half the Trump administration has approved billions of dollars in potential arms sales to Taiwan.
China, which claims the island democracy as its own, has vowed to retaliate.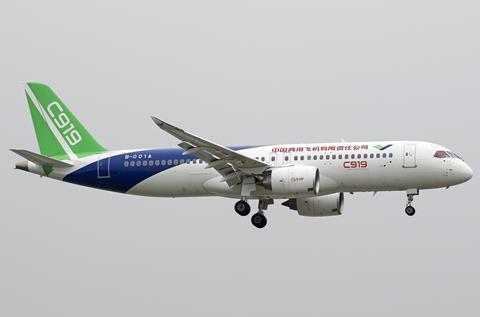 But so far the response from Beijing is mostly a symbolic shot across the bow: denunciations from the foreign ministry; angry and dismissive op-eds in state-run papers like the Global Times; and, sanctions for US aerospace defence subsidiaries and firms, none of which do substantial business in China anyway.
Aerospace industry analysts say there is little China can do to American aerospace manufacturers and suppliers if it wants to push ahead with development of domestically built commercial airliners. That's because those aircraft are heavily reliant on US expertise.
Moreover, if Beijing were to block US-made passenger aircraft from being sold in China it would make operations expensive and difficult for Chinese airlines, which would instead be put in a tough negotiating position with Europe's Airbus and otherwise would be stuck with poorer performing aircraft made domestically or in Russia.
Still, China is pushing ahead with programmes designed to make itself more self-reliant, such as the Comac C919, a narrow-body twinjet airliner, designed to compete with the Boeing 737 Max and Airbus A320neo. The type is still in testing and Comac has not declared firm dates for certification or its entry into service.
Ultimately, a breakup of the US and Chinese aerospace industries would be a "nightmare scenario", says Richard Aboulafia, vice-president of analysis with the Teal Group. It "would be difficult to execute," but "not impossible", he says.
"Not only would supply chains, financial portfolios, and customer buying patterns need to be sorted out; the entire China-US political and trade relationship would be impacted too," he says. "Or, an aerospace decoupling would both reflect and contribute to, a much broader political and economic decoupling."
Right now, Chinese airlines are reliant on US- and European-made jets, he says.
"Chinese aircraft development, predictably, has taken many years longer than hoped," says Aboulafia. "After nearly 20 years, they are just delivering a useless regional jet."
That regional jet is Comac's ARJ21, a 78-to-90 seat aircraft that was first delivered in June to China's big three airlines: Air China, China Eastern Airlines and China Southern Airlines. In total, 38 examples of the aircraft are in service and 316 examples are on order, according to Cirium fleets data. The user base will be entirely Chinese, apart from a few examples potentially finding their way to the developing world.
"The C919 is the jet that really matters, and that won't be available in large numbers until the end of the decade," says Aboulafia. "It might not be available in even small numbers until 2025."
Domestic aircraft development would take even longer if Beijing tried breaking the industry's reliance on US engine and systems suppliers, he adds. For instance, the COMAC C919 uses the LEAP-1C engine made by CFM International, a joint venture between the USA's GE Aviation and France's Safran. Or, consider the communication and navigation systems for the C919, which is made via a joint venture between China Electronics Technology Avionics Company and Raytheon Technologies' subsidiary Collins Aerospace. Aviage Systems, which produces the C919's avionics, is a joint venture between General Electric and Avic.
FOREIGN KNOW-HOW
Beijing has often tried to advance domestic industries by requiring foreign companies to give up technology or form joint ventures with local firms in order to do business within its borders. Western firms and governments also accuse Beijing of using espionage to steal intellectual property in order to reverse engineer critical technologies.
Those tactics can only take an industry so far, says Alex Krutz, managing director at Patriot Industrial Partners, an aerospace consultancy.
"The hardware aspects will come easier for them through partnerships, through learning and forced intellectual property transfers. Some things they will design on their own. They have some very smart people that have gone to MIT and other places," he says. "But generally, there's some secret sauce when it comes to software, coatings or aerodynamics of certain parts."
"For example, one of the golden nuggets of an engine are the coatings within the hot section of the engine," says Krutz. "Pratt & Whitney has proprietary coatings that they keep very close to the vest. … They don't even let suppliers coat certain parts. They do that all in-house at Pratt and Whitney."
Even if certain aspects of an engine were reversed engineered, making all the parts work together efficiently requires considerable know-how. "Making it work at sustained hours, it's a whole different story," says Krutz. "Maybe you can build it, and it starts and runs 30 minutes or an hour, but does it really function over an eight-hour flight the way Western engines have been developed to do?"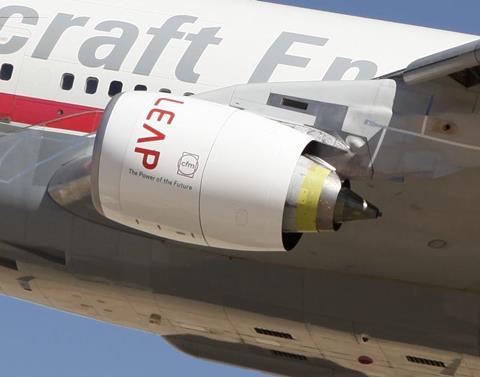 That kind of knowledge makes China dependent on Western manufacturers.
"There's dependent and there's totally dependent. If they want functioning aircraft with a significant gap in performance with the rest of the world, they could get there by the early 2030s," says Aboulafia. "But no country, even the US, can rely purely on national systems, unless they want inferior jets. If China goes down this path, even when they got there they'd merely be repeating the horrible Soviet experience of having inferior national copies of globally-built aircraft."
In theory, Chinese manufacturers and airlines could rely solely on European suppliers, though that might make their negotiating position difficult, says Krutz. "That starts getting into pricing issues with that sole source supplier, which will limit their ability to keep the aircraft pricing down," he says.
"Airbus has been increasing its market share, but it's hard to sort out what's due to geopolitical tensions and what's simply the 737 Max's problems," says Aboulafia. "But I suspect we'll see the answer, with any [Civil Aviation Administration of China] delays to Max recertification."
A research report from Jefferies reached a similar conclusion.
"We estimate that China could make up approximately 20% of the near-term skyline for 737 Max aircraft, with Chinese government officials having the power to delay the re-certification of the Max and not committing to a clear timetable," says the report, released on 26 October. "A potential delay could create risk to 89 deliveries scheduled for 2021."
BAD MARRIAGE
Ultimately, it appears the leadership of the Chinese Communist Party knows its aerospace industry can't break free of US manufacturers yet. That showed up in what appear to be toothless sanctions against US companies selling weapons and aerospace subsystems to the Taiwanese military.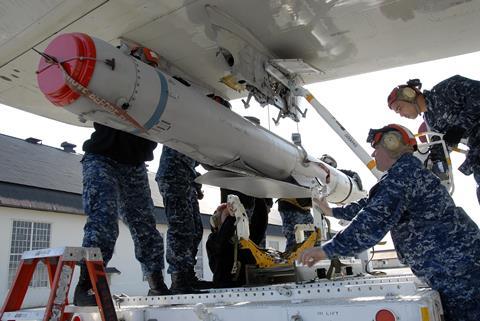 In October, the Chinese foreign ministry announced plans to sanction Boeing Defense, Raytheon and Lockheed Martin over a possible $1.8 billion Foreign Military Sales package for Taiwan. The proposed weapons sale to Taipei includes 135 examples of the Boeing AGM-84H Standoff Land Attack Missile Expanded Response, 11 Lockheed High Mobility Artillery Rocket Systems launchers and six Collins Aerospace MS-110 multi-spectral airborne reconnaissance pods.
However, China's sanctions seemed to be only against the defence side of Boeing and Raytheon Technologies. Boeing Commercial Airplanes and Collins Aerospace – the commercial airliner industry business – were not mentioned. For its part, Lockheed Martin does relatively little commercial business, most of which is limited to its helicopter subsidiary Sikorsky. The company says less than 1% of its total sales are generated in China.
Despite the sound and fury coming out of Beijing, Boeing and Raytheon told FlightGlobal last month that they remain committed to doing business in China.
"The best way to think about the relationship is that it's a bad marriage, but divorce would be worse," says Aboulafia.