United Aircraft has conducted a second test flight with the updated Ilyushin Il-114-300 turboprop, a month after the maiden sortie in mid-December.
The twin-engined aircraft – numbered 54114, a modernised version of the original Il-114 airframe – took off from Moscow Zhukovsky with a crew of three, comprising two pilots and a test engineer.
It operated to an altitude of 2,000m (6,600ft) and speeds up to 156kt.
"According to the crew commander, the systems and equipment were operating normally," says United Aircraft, adding that the test plan was "completed in full" during the 2h 47min flight.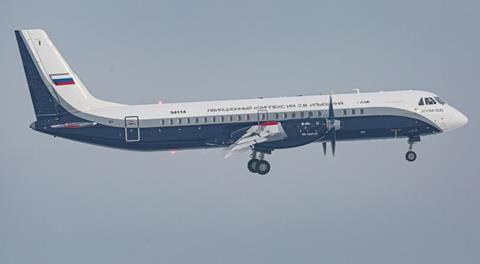 Russian state technological firm Rostec's industrial director, Anatoly Serdyukov, says crew checked flight stability and carried out tests of the power systems, digital flight and navigation avionics, and radio.
"All systems worked fine," he states. "Our task is to bring this aircraft to the market as soon as possible."
Ilyushin is the lead enterprise within United Aircraft's transport aviation division.
"We will increase the number of test flights in order to ensure the effectiveness of the flight and certification test programme – so we can early start the serial production of the aircraft," says Ilyushin chief designer Sergei Ganin.
"We are consulting with regional airlines in order to clarify all the requirements of future operators of the aircraft."
Assembly of a second prototype is continuing at the serial production facility in the Lukhovitsy plant outside Moscow, with mating of the wing and fitting of the horizontal stabiliser. Flight tests of this airframe are planned for later this year.