Iraq's government is considering acquiring a pair of Dassault Falcon executive jets with which to modernise the VIP fleet of flag-carrier Iraqi Airways.
The ministry of transport set up a committee to explore the plan, and it has discussed the purchase with representatives of the airline, as well as the finance, oil, and foreign affairs ministries.
According to the transport ministry, the Falcon features "advanced" specifications and is "characterised by high performance".
It has not identified the model under examination, although it has released a promotional image showing a Falcon 8X.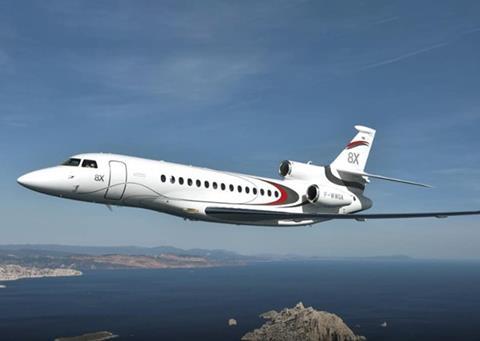 The Iraqi government has previously used other Dassault Falcon types in its operations.
Iraqi Airways is undergoing a broader fleet modernisation and will have 43 aircraft by the end of this year.
It currently has 38, according to the ministry. The airline is taking five Airbus A220-300s, of which four have been delivered. "It is hoped the last [A220] will be received soon," the ministry says.
Iraqi Airways is introducing 26 Boeing jets, comprising 16 737 Max 8s and 10 787s.
Four Max 8s have been delivered to the flag-carrier and the first two 787s are due to arrive this year. The remainder will be brought into the fleet over the period to 2027.