Israel's government has expanded potential route networks with Arab states through an airspace agreement with its Jordanian counterpart.
The pact, signed between civil aviation authorities on 8 October, opens the two countries' airspace and will "significantly shorten flight times" from the Gulf states and Asia to destinations in Europe and North America, says the government.
Aircraft have previously had to depart from optimum flightpaths by "many tens of kilometres", it states, by flying through Iran and Turkey to the north or Sinai in the south.
Israel and Jordan already had diplomatic ties following a peace deal between the two countries reached in 1994.
"This [airspace agreement] is the successful conclusion of negotiations that began several years ago," the Israeli government says.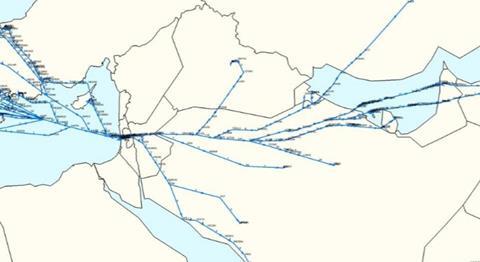 It points out that the discussions were "accelerated" as a result of the recent normalisation of relations between Israel, the United Arab Emirates and Bahrain – as well as the opening of Saudi Arabian airspace to Israeli-Gulf flights.
Israeli transport minister Miri Regev says the government is "breaking new boundaries", and that the country is "increasingly integrating".
"We are opening up new means of transport, economic and political co-operation with countries that share similar borders and interests with us, and share the vision of regional peace," she adds.
Flights operated by UAE and Bahraini carriers will be able to overfly Israel to proceed to their destinations, leading to "significant" fuel savings, says the Israeli government.
It acknowledges the support of pan-European air navigation organisation Eurocontrol in reaching the agreement.