Israeli prime minister Benjamin Netanyahu has referenced further airspace efficiencies as a benefit of the new agreement to normalise relations with Sudan.
Netanyahu had previously indicated that the Israeli government had made political contact with Sudanese counterparts in the past couple of years.
"The skies of Sudan are open to Israel today," he says. "This allows for direct and shorter flights between Israel and Africa and South America."
Israeli and Sudanese officials are set to negotiate co-operation in aviation, trade, economy and other aspects over the coming weeks following the agreement to normalise relations.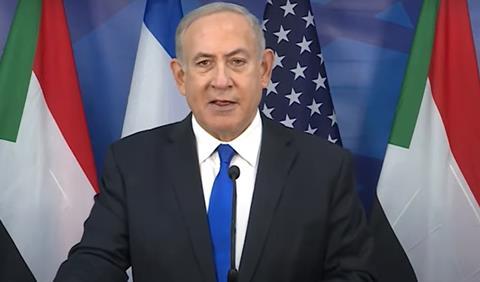 Sudan becomes the third Arab state – after the United Arab Emirates and Bahrain – to reach such an agreement in the past few weeks, joining a group which also includes Jordan and Egypt.
The Sudanese state is undergoing a transition to democracy through a process which commenced in mid-2019.
"After decades of living under a brutal dictatorship, the people of Sudan are finally taking charge," says the US government which brokered the agreement, and removed Sudan from a US list of state sponsors of terrorism.
"The Sudanese transitional government has demonstrated its courage and commitment to combating terrorism, building its democratic institutions, and improving its relations with its neighbours."
Israel's agreement with Sudan is particularly symbolic because the Arab League declared from the Sudanese capital Khartoum, after an August 1967 summit, that Arab governments would work to ensure Israel's withdrawal from Arab territory following the Six-Day War.
This declaration added that there would be no recognition of Israel, no negotiations, and no peace with it, while affirming support for Palestinians.
"Today Khartoum says 'yes' to peace with Israel, 'yes' to recognition of Israel, and to normalisation with Israel," says Netanyahu. "This is a new era. An era of true peace. A peace that is expanding with other Arab countries."
Sudan's main airline, Sudan Airways, has been affected for years by the pressure from US government sanctions. The carrier is also blacklisted by the European Union as part of a blanket ban on the country.
Sudan Airways operates only a limited fleet. It has a pair of Airbus A300-600Rs in storage while an Airbus A320 serves regional routes including Cairo.