Wet-lease specialist SmartLynx has shown off its initial Airbus A321 freighter, a twinjet registered to the operator's Maltese division.
It carries the joint liveries of SmartLynx and express cargo company DHL's European Air Transport division.
The jet (9H-CGA) is a 1998 airframe originally delivered to Swissair and subsequently operated by airlines including Air Mediterranee and the Congolese carrier Compagnie Africaine d'Aviation.
It underwent conversion to a freighter last year with aircraft maintenance and modification firm Vallair.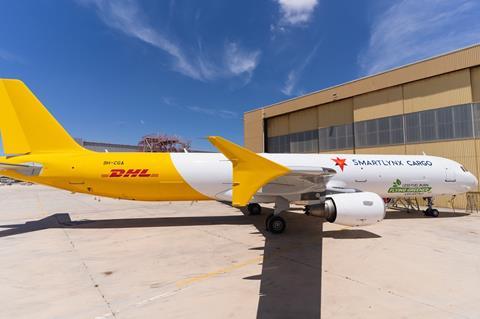 SmartLynx says the freighter will be flown to Leipzig where it will support DHL express services.
"Through its investment in the introduction of the A321F to the fleet, SmartLynx Malta is visibly demonstrating its commitment to sustainability," it adds.
It states that the jet – powered by CFM International CFM56 engines – is "perfectly placed" to meet increasing demand for express cargo transport.
Chief executive Zygimantas Surintas says e-commerce and the continuing need to transport medical supplies have "vastly dictated the pace of growth" across the air cargo sector.
SmartLynx says it is intending to introduce further A321 freighters and aims to become "one of the largest" operators of narrowbody cargo aircraft.