Lessor Griffin Global Asset Management has ordered five Boeing 737 Max 8s — its first direct order with the North American airframer.
The company is the latest lessor this year to place an order with Boeing for the 737 Max, as countries around the world lift the type's grounding following two fatal accidents in 2018 and 2019.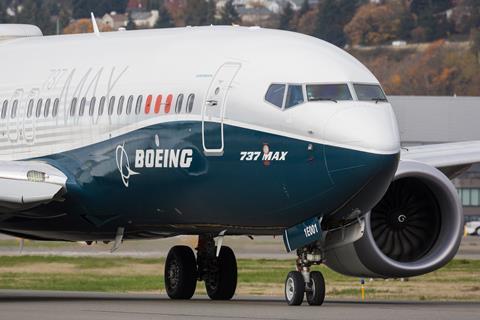 On the order, Griffin founder and chief executive Ryan McKenna says: "As market conditions rebound, we are finding opportunities to serve our airline customers in innovative ways. An important component of this strategy is providing balanced capacity that meets returning passenger demand."
Adds Ihssane Mounir, Boeing's senior vice president of commercial sales and marketing: "Griffin Global Asset Management is building a first-class aircraft leasing business, and we are delighted that they have selected the 737-8 for their single-aisle portfolio."
Boeing did not disclose the value of the order.
McKenna founded Griffin in early 2020 with partners Bain Capital Credit. The lessor has offices in Los Angeles and Dublin, and this year added two former Boeing executives to its senior management team. In January, the lessor completed financing transactions relating to two 787 aircraft operated by Virgin Atlantic.
With the Griffin order, Boeing has notched 529 commitments for the 737 Max family aircraft this year. Lessors that have ordered the type this year include Dubai-based DAE Capital, which committed to 15 Max 8s, as well as SMBC Aviation Capital, which ordered 14 Max 8s. Other lessors, such as China Aircraft Leasing and CDB Aviation, have pared back on their 737 Max orderbook.