Russian airframer Irkut has conducted a flight to Irkutsk's main airport with the MC-21-300, to test the new aircraft type under normal operating conditions.
The aircraft involved, number 73054, was fitted with a passenger cabin when it rolled off the assembly line. It carried out its maiden flight in March 2019.
Irkut says the twinjet – powered by Pratt & Whitney PW1400G engines – flew from Moscow Zhukovsky airport to Irkutsk on 15 December, landing at 19:30 after covering some 2,300nm.
Personnel at the airport provided "full technical assistance" to ground-handlers during the jet's arrival and departure.
The airframer says the flight was "successful" and performed under normal operating conditions.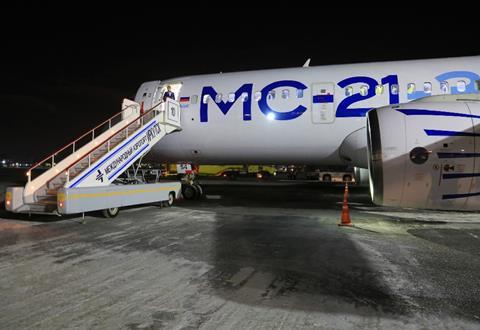 It adds that the aircraft was inspected for external damage, and towed to a parking station. Further control tests of the engines and other systems were carried out at Irkutsk.
Assembly of the MC-21 is undertaken at the Irkut facility located in the city, a few kilometres from the airport.
Irkut says it plans to obtain Russian certification of the MC-21 by the end of this year, and serial production of the initial customer aircraft is ramping up with six initial jets for Rossiya to be delivered in 2022. Four are already being assembled at the Irkut plant.