Russian airframer Irkut has commenced water ingestion tests of the MC-21-300 twinjet on a runway at Ulyanovsk.
The tests involve creating a pool of water 70m in length and some 20m wide, with a depth in line with international certification criteria.
Irkut states that one of the MC-21 test aircraft will carry out ground runs through the pool at a range of speeds and engine configurations, including during the deployment of thrust-reversers.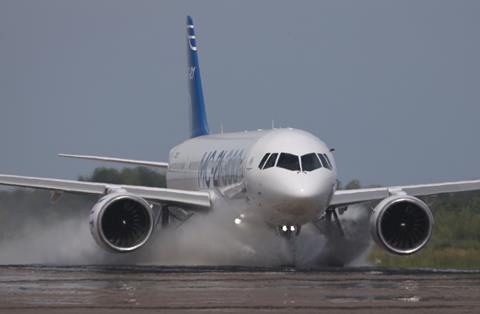 Four aircraft comprise the current certification campaign fleet, all of which are fitted with Pratt & Whitney PW1400G engines.
"It is necessary to confirm that, during aircraft movement, the water does not disrupt the functioning of the [engines] and auxiliary power unit, or damage structural elements and aircraft systems," the airframer says.
Measurement equipment complemented by video surveillance systems on the aircraft, and on the ground, will be used to record the results of the testing.