New Saudi Arabian lessor AviLease has carried out its first deliveries, with the handover of two Airbus A320neos to local operator Flynas.
AviLease was established in June as an aviation finance and leasing company, wholly-owned by the kingdom's sovereign Public Investment Fund and specialising in new-generation aircraft.
The company, which is based in Riyadh, had already disclosed that Flynas would be its first customer.
AviLease says it has taken delivery of the first two of 12 A320neos for the airline, and it expects Flynas will receive the remaining aircraft by the end of next year.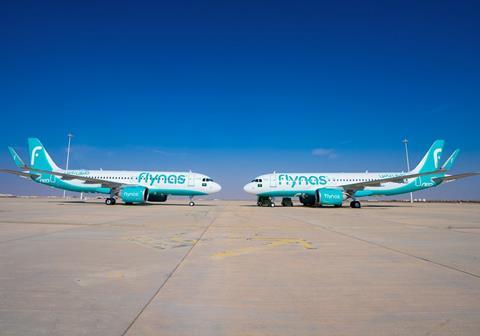 "Our agreement with AviLease is designed to support our continued, sustainable growth plans through a modern and efficient fleet, equipping us for the foreseeable future," says Flynas chief Bander Almohanna.
The lessor says it aims to undergo rapid expansion to "unlock the capabilities" of the Saudi air transport market and support economic diversification.
"Swift delivery speaks to the rapid expansion of the Saudi Arabia aviation sector, which will witness the region's fastest passenger traffic growth through to 2040," it adds.
AviLease says the deliveries "set the tempo" for the company, which also intends to branch into long-haul aircraft.
"From day one, we have focused on getting down to business, and these two deliveries, within four months of beginning operations, are testament to that," says chief executive Edward O'Byrne. "But this is just the start."