Oman's government has initialed a comprehensive air transport pact with the European Union, aiming for a five-year implementation which will eventually lead to a full 'open skies' arrangement.
The Middle Eastern sultanate has bilateral third- and fourth-freedom rights with a number of EU countries – among them France, Germany and Italy – but is keen to liberalise its air transport accords with the region.
Under the new agreement, negotiated over two years, Oman Air and SalamAir will be able to increase frequencies and expand their European networks, while EU carriers will be able to operate to all Omani airports.
"Greater economic development through increased air traffic is just one of many benefits of an open skies agreement," says Oman Civil Aviation Authority president Naif Bin Ali Al Abri.
"We are extremely confident that the inherent opportunities for tourism and an entire eco-system of interconnected industries will flourish."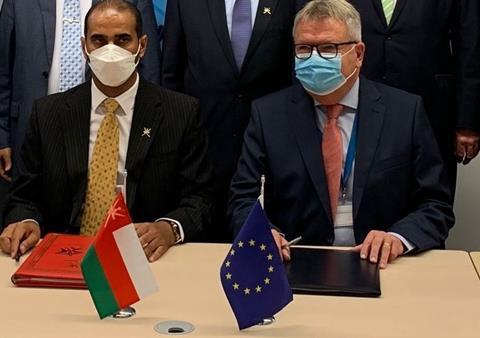 The agreement provides other aviation-related benefits including commercial, safety, security, competition and air traffic management aspects.
"It means more choice of destinations and travel options for both our business and leisure guests across an enhanced route network," says Oman Air chief Abdulaziz Al Raisi, describing the pact as a "tremendous achievement".
SalamAir says the recent addition of long-range Airbus A321neos to its fleet means the evolution of the agreement is a "timely opportunity".
Chief executive Mohamed Ahmed adds: "This partnership will not only provide us a platform to expand our network, it will also aid us in providing a more affordable, convenient, and efficient service to passengers as well."