Under the exceptional circumstances of the air transport crisis, Paris Charles de Gaulle airport has overtaken London Heathrow as the primary European hub.
Charles de Gaulle handled almost 19.3 million passengers in the first nine months of 2020, according to figures from operator Groupe ADP, down 66.8%.
London Heathrow's total fell further, down by 68.9% to 19.0 million.
At the half-year point Heathrow had recorded 15.4 million passengers while Charles de Gaulle lagged at just over 14 million.
But Heathrow chief executive John Holland-Kaye states that the Parisian hub has overtaken its London rival as Europe's largest airport "for the first time ever", and warns that both Frankfurt and Amsterdam Schiphol are "quickly gaining ground".
Holland-Kaye attributes the situation to the UK's being "too slow to embrace passenger testing" in relation to the pandemic.
"European leaders acted quicker and now their economies are reaping the benefits," he says.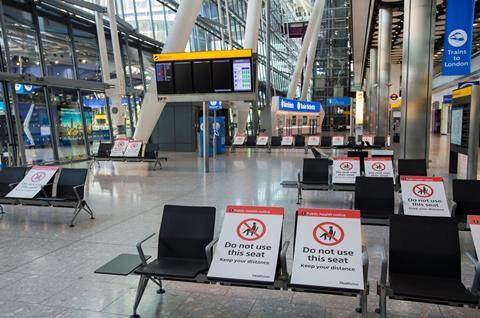 The operator is forecasting that Heathrow will handle 22.6 million passengers this year, and 37.1 million in 2021 – down from previous forecasts in June.
Heathrow's pre-tax loss for the nine months to 30 September reached just over £1.5 billion ($1.97 billion). Revenues for the period were down by 59% to £951 million.
But the airport operator insists its finances remain "robust", with liquidity lifted in October to £4.5 billion.
"Cash reserves are sufficient for the next 12 months even under an extreme scenario with no revenue, and well into 2023 under our current forecast," it states.