Kuwaiti lessor ALAFCO's operating lease revenues dropped by two-thirds over the first half of the year, after its decision to sell a large quantity of its aircraft portfolio to Macquarie Airfinance Group.
The lessor recorded revenues of just under KD17 million ($55 million) in the six months to 31 March, in contrast with the previous figure of nearly KD51 million.
ALAFCO managed almost to break even over the half-year period, posting a net loss of KD191,000, having disclosed a profit of KD650,000 in the first quarter.
This was an improvement on the previous half-year loss of KD4.5 million, which had been largely attributable to a KD13.2 million impairment on aircraft and engines imposed after an airline customer underwent insolvency procedures.
ALAFCO is selling 53 of its 76 aircraft to Macquarie, as well as a batch of 20 Boeing 737 Max jets on order.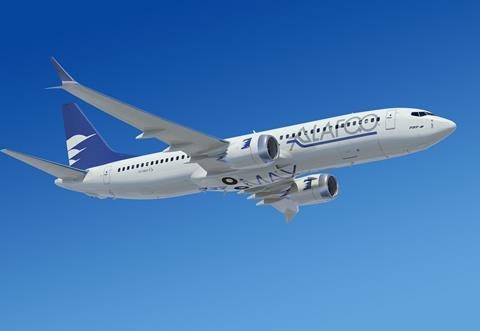 "Lease rental factors and profit margins remain lower in this period," says chief financial officer Yousuf Althuwaikh.
"However, we remain confident that the aviation industry – and specifically the aircraft leasing industry – will recover and return to pre-Covid levels of profitability and strength soon."
Chief executive Adel Albanwan adds that, with travel restrictions in China lifted, the supply-and-demand "imbalance" for aircraft "may worsen", pushing up lease rates.
"Restricted new aircraft production and continued traffic growth will place a premium on aircraft available today," he adds.
Albanwan says the Macquarie transaction remains subject to regulatory approval, which is "expected within the year".
ALAFCO has orders for 46 Airbus A320neos, deliveries of which are set to commence from 2026.
Albanwan says that, as a result, the lessor's backlog is "perfectly positioned" to satisfy changes in demand.
"We have not completed eliminated the possibility of placing a new order despite our shareholders' approving [the Macquarie] purchase offer for [our 737 Max backlog]," he says.
"However, we continue to observe the market and needs of airlines worldwide to reassess our future plans."