Qatar's government is advancing a plan to establish its own separate airspace, aiming to withdraw from the long-standing arrangement under which Bahrain oversees much of the emirate's air traffic.
Its proposal would split the Bahrain flight information region – which stretches along much of the western Persian Gulf from the United Arab Emirates to Kuwait – into two sections of airspace, with a new boundary of about 90nm running between Bahrain and Qatar.
ICAO's Council agreed in principle, at a session on 21 June, on the establishment of a new Doha FIR and invited Bahrain and Qatar to "discuss co-operatively" the technical arrangements.
Qatar's ministry of transport says co-ordination efforts with Bahrain have started, and findings from the discussions with Bahrain are due to be presented at the next ICAO Council session scheduled for October-November.
Through its proposal, the ministry adds, Qatar aims to "support development of safe and sustainable air transport operations" in the region, adding that the change relies on "good relations" and "mutual respect" among the states involved to ensure smooth services.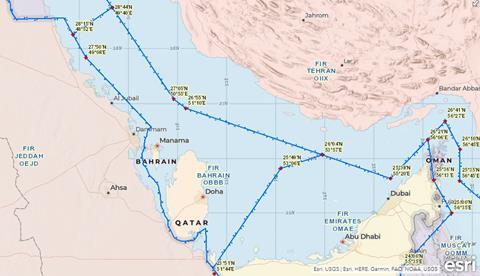 Bahrain oversees air traffic in Qatari airspace except for the Doha terminal area. ICAO's Council points out that Bahrain has provided "safe and efficient" air navigation services over several decades in the area, after being delegated the responsibility by Qatar.
But it also acknowledges that Qatar has the right to request establishment of its own FIR and search-and-rescue region.
The Qatari government laid out its airspace plan in August 2018, at a time of political tension in the Gulf, after Bahrain and three other countries – Saudi Arabia, Egypt and the UAE – imposed a blockade on Qatar just over a year earlier in June 2017.
Qatar claimed the FIR boundaries no longer served its interests, and that its proposal would reduce complexity relating to traffic operating to and from its airports, improve sectorisation to ensure optimised approaches and departures, and redistribute workload more evenly between the Qatari and Bahraini air traffic control.
It also argued that it would "remove reliance" on delegation of air navigation services outside of Qatar, co-ordination of which has "proved historically challenging".
Consensus on the proposal could not be reached at Middle East regional level and it was circulated for broader international consideration in January 2020.
All four blockading states, plus Yemen, objected to the plan.
Bahrain argued that Qatar had not presented technical or operational justification for the proposal, and that introducing an additional air navigation service in a complex, high-density traffic area would impose an "unnecessary" co-ordination burden and potentially reduce safety while increasing costs.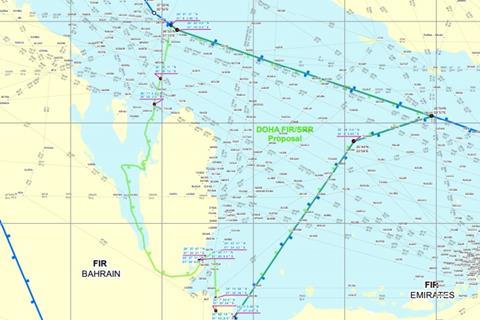 Egypt said the existing arrangement had proven sound for decades, and that the Qatari proposal "contradicted" recommendations for seamless traffic flows.
Similar reasoning was put forward by Saudi Arabia and the UAE, with the Saudi representatives claiming that fragmenting the airspace structure would have a "major impact" on traffic and result in "severe" capacity reduction, adding a layer of complexity with "new hot-spot areas". The UAE suggested the proposal would not bring any operational benefits and, on the contrary, would "jeopardise" a mature operation in the area.
But Qatar maintained at an ICAO meeting in February this year that its proposal for a dedicated Doha FIR would enhance safety and provide economic benefits to the airline industry.
"Qatar has explored all possible options for reaching a consensus on the proposal and is of the view that some parties are using delaying tactics to further drag on the process," it noted, adding that only five out of 55 consulted parties were objecting.
At the time of the meeting all four blockading states had just lifted their restrictions against Qatar, following a Gulf Co-operation Council summit in Al-Ula, Saudi Arabia, in early January.