Rolls-Royce is to test a Trent engine with a fully-sustainable aviation fuel as part of its development of the advanced UltraFan powerplant.
The Trent 1000 engine will feature a lean-burn low-emissions system known as ALECSys, says the manufacturer.
UltraFan is intended to provide a 25% fuel-burn saving over the first generation of Trent engines.
Rolls-Royce states that the ground tests, which will commence at its Derby headquarters in the next few weeks, will mark the first time the manufacturer has used a 100%-sustainable fuel.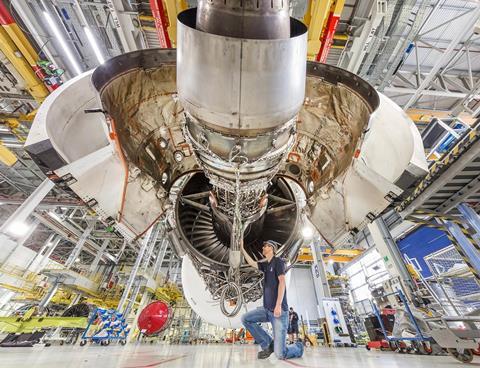 The tests will aim to confirm that unblended sustainable fuel – rather than the current approved 50% blends – can serve as a "full drop-in" option, and make a "significant contribution" to improving engines' environmental performance, it adds.
US-based fuel specialist World Energy is producing the fuel, sourced by Shell Aviation and delivered by SkyNRG.
"These tests aim to show that we can deliver real emissions reductions," says Rolls-Royce chief technology officer Paul Stein.
Development of ALECSys is being supported by the European Union's Clean Sky initiative as well as the UK's Aerospace Technology Institute and Innovate UK.