United Aircraft is aiming to fly the first Russian-powered Irkut MC-21 before the end of this year, and the Ilyushin Il-114-300 as soon as September, the aerospace firm's chief has informed President Vladimir Putin.
The MC-21-310 variant will be fitted with Aviadvigatel PD-14 engines rather than the Pratt & Whitney PW1400G.
"We must complete the project by the end of this year," United Aircraft chief Yuri Slyusar told Putin during a meeting, signalling that this included the maiden flight.
"The new engines have already been installed on the aircraft in Irkutsk, and now they are undergoing the necessary trials."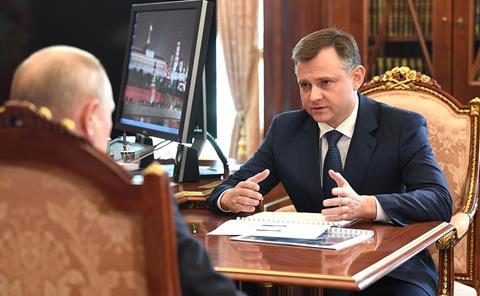 Slyusar also updated Putin on the Il-114-300 development, telling him that the prototype aircraft has already undergone assembly and is undertaking ground trials.
"I think that we will fly it in [Moscow Zhukovsky] in September, according to our plans," he says.
Slyusar says that, alongside the various tests, the company is establishing an aftermarket service system and training facilities for both pilots and engineers.
"This model will be in great demand because it is badly needed, especially in remote regions," he adds.
He told Putin that the Il-114-300, with seating for 68 passengers and a speed of 270kt, would not only replace the older Soviet-era Antonov An-24s but also the more modern Bombardier Q400.
Slyusar says the turboprop is rugged and simple to operate, will not demand large quantities of ground-support equipment, and will be able to cope with "any terrain".
The Il-114-300 will be assembled at the Lukhovitsy plant in Moscow, where the MiG-35 combat aircraft is built on a parallel line.
Slyusar says the airframer plans to build up to 12 of the turboprops annually, and informed Putin that additional versions of the aircraft – other than the civil variants – will be developed to replace older Ilyushin types in special roles.