Saudi Arabia's civil aviation regulator has become the latest to approve operations with the Boeing 737 Max, although none of the kingdom's airlines yet operates the type.
Flag-carrier Saudia's budget airline Flyadeal had been in line to acquire the 737 Max, through a provisional $5.9 billion agreement for 30 Max 8s unveiled at the end of 2018 – less than three months before the worldwide grounding of the type.
Flyadeal, which had also intended to take options on another 20, subsequently abandoned the Max for an equivalent agreement to acquire the rival Airbus A320neo.
Saudi Arabia's General Authority of Civil Aviation says the Max will be "allowed to return to service" within the country following its review.
"Several foreign airlines operate flights to and from Saudi airports, and several flights cross [our] airspace with the same model," says the regulator.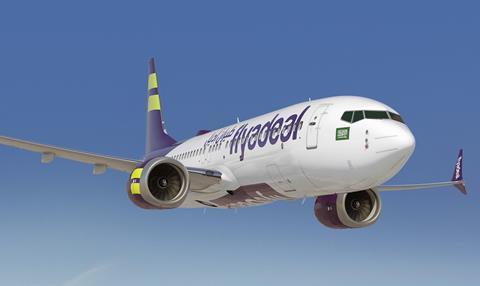 GACA says it has co-ordinated with international aviation authorities over the modification of the aircraft, as well as training of pilot, to "ensure the highest level of safety".
Alongside the return-to-service approvals it will issue a type certification notification once the first example of the Max is introduced to the Saudi Arabian registry.
Middle Eastern operators of the Max include Flydubai and Oman Air, while Qatar Airways has a small number in storage previously associated with its Air Italy operation. Kuwaiti lessor ALAFCO is also a customer.