Saudi Arabian engineering firm Alfanar is seeking price-protection measures from the UK government as it commits to developing two more sustainable aviation fuel plants in the country.
Alfanar is already advancing with an initial £1 billion project – the 'Lighthouse Green Fuels' scheme in Teesside, in the north-east – which will generate fuel from household waste, and which could be operational by 2027 after entering its front-end design phase.
"This milestone makes the project the most advanced [sustainable aviation fuel] facility in the UK today," the company claims.
The plant will use gasification and Fischer-Tropsch processes to convert waste into 180 million litres of fuel and green naphtha annually.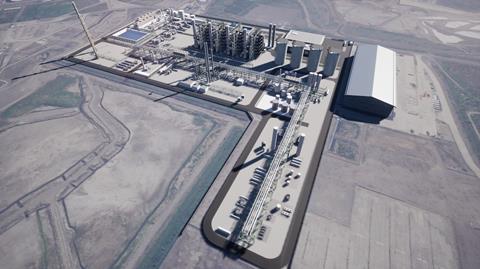 Alfanar is aiming to develop two more plants, respectively by 2030 and 2035, and is "actively evaluating" other UK sites.
But it is seeking "price certainty", and is urging the UK government to introduce a price-stabilisation mechanism such as a "contract for difference".
The government already uses such schemes to support renewable-energy programmes, protecting developers from volatility in prices.
Alfanar says price certainty is "needed" to support introduction and progress of early projects in the sustainable fuel sector.
"With the third-largest aviation network in the world, and with one of the world's largest potential offshore [carbon dioxide] stores, the UK has the industrial and geological advantages to become a global leader in developing green aviation fuel," says Alfanar chief investment officer Mishal Almutlaq.
The company is also looking to capitalise on carbon-capture and hydrogen technology to develop additional projects.
"Aviation will be central to our future growth," says UK aviation minister Robert Courts, highlighting the firm's plans to produce "cleaner fuel in a few years", and adding: "It's essential we deliver greener flying."