Russian freight operator Sky Gates is to be the base carrier for a newly-commissioned cargo complex at Moscow Zhukovsky airport.
Transport minster Yevgeny Ditrikh and federal transport regulator Rosaviatsia's chief, Alexander Neradko, attended the opening of the logistics centre which will be able to accommodate four widebody or six medium-sized freighters.
The centre, operated by Zhia Cargo, features a 9,200m² freight terminal and 90,000m² apron.
Sky Gates, which uses a pair of Boeing 747-400Fs, will station its operations at the new facility. One of its aircraft ceremonially marked the opening after arriving from Baku.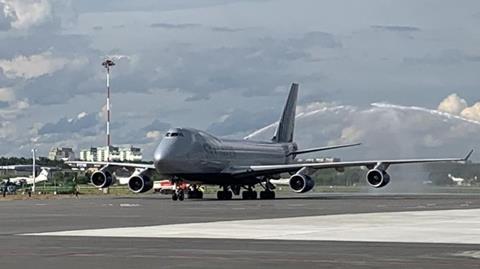 Zhukovsky airport operator Ramport Aero's chairman, Boris Alyoshin, says that the opening of the complex is "extremely timely", even under the current crisis conditions facing air transport.
The $37 million centre's operator is forecasting that it will handle 12,000t of cargo this year but has the capability of dealing with up to 100,00t – and plans are already being developed to double this capacity.
Zhia Cargo is a joint venture between Ramport Aero, which holds 51% of the shares, and other investors including private holders from Azerbaijan.