SmartLynx Malta has taken delivery of another Airbus A321 converted freighter from Vallair, the first to have been inducted at the company's Chinese modification facility.
The aircraft, MSN1017, will be operated by SmartLynx on behalf of express freight company DHL.
It has been converted at a centre in Guangzhou.
The aircraft, fitted with CFM International CFM56 engines, was originally delivered to leisure carrier First Choice Airways in 1999, and was subsequently operated by companies including Air Ivoire.
SmartLynx has registered the twinjet in Malta as 9H-CGB, complementing 9H-CGA (MSN891) which was delivered to the carrier in June.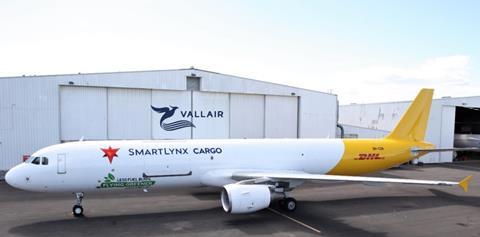 Vallair also previously delivered an A321 freighter, its first conversion of the type, to Qantas in October last year.
After conversion in China the latest A321 underwent painting at Vallair's maintenance facility in Montpellier.
Vallair head of trading and leasing Patrick Leopold says the delivery of the jet – the company's third converted A321, all of which were delivered in under a year – is "another significant milestone".
"This further demonstrates our capability to successfully run such a programme involving several stakeholders from all over the world," he says.
"Month on month, we see the ever-augmenting demands of e-commerce and e-freight and the A321F is the ideal candidate in terms of payload and capacity."
Vallair claims that some 1,500 converted single-aisle aircraft will be needed over the next decade, of which two-thirds will be used for fleet replacement.