Wet-lease specialist SmartLynx Airlines is to introduce converted Airbus A330-300 freighters, stepping up to the long-haul jets having already started bringing in A321 cargo aircraft.
The company has agreed with Air Transport Services Group to acquire six modified A330s under a six-year lease.
SmartLynx will take delivery of the first aircraft next year.
It is already an A330-300 operator, through its SmartLynx Malta operation, with six Rolls-Royce Trent 700-powered aircraft in the fleet.
SmartLynx had disclosed last year that it planned to take the twinjets, temporarily adapting them for freight transport, before restoring them to passenger service once the post-pandemic recovery justified it.
The decision to supplement its fleet with dedicated freighters signals the carrier's intention to become a significant participant in the airfreight sector.
"Introduction of the A330-300 [converted freighter] is a logical step and one which creates relevant synergies with the rest of our fleet," says SmartLynx chief Zygimantas Surintas.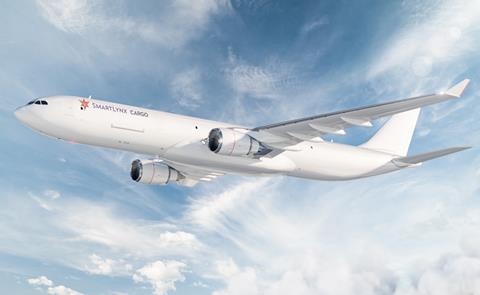 Along with the passenger A330s the company has ventured into freighter operations with A321s converted through Vallair. It started operating the A321Fs last year on behalf of DHL.
Surintas says the A330 freighters will be part of a fleet-modernisation strategy aimed at providing greater capacity, flexibility and efficiency.
"[It is] another step towards SmartLynx Airlines' becoming a leading global player in the air cargo marketplace," he adds.
Converted into a freighter, the A330-300 will offer a payload of 61t and a range of up to 3,600nm.
"We intend to continue expanding our lease options for e-commerce and express shipping customers around the world while providing a suite of complementary service options," says ATSG chief commercial officer Mike Berger.
ATSG had recently disclosed that it was taking 29 A330 freighter conversion slots with modification specialist EFW. The aircraft will be converted at Dresden and Shanghai over the course of 2023-27.
SmartLynx has also entered an A321 cargo conversion pact with EFW.