Japanese-owned SMBC Aviation Capital is to acquire fellow Irish-based lessor Goshawk Aviation under a transaction valued at $6.7 billion.
It will create the second-largest lessor worldwide in terms of aircraft numbers, and the largest to be owned by Japanese interests.
SMBC will take over Goshawk following an agreement with NWS Holdings and Chow Tai Fook Enterprises.
It will acquire 176 owned and managed aircraft, giving SMBC a total of 709 – although any Goshawk aircraft located in Russia will be excluded from the deal.
Another 261 aircraft are on order from Airbus and Boeing, all A320neo-family and 737 jets.
"Goshawk is a high-quality business with assets and people that complement our own," says SMBC Aviation Capital chief Peter Barrett.
"The combined business will continue to have a disciplined focus on young, liquid, most-in-demand narrowbody aircraft."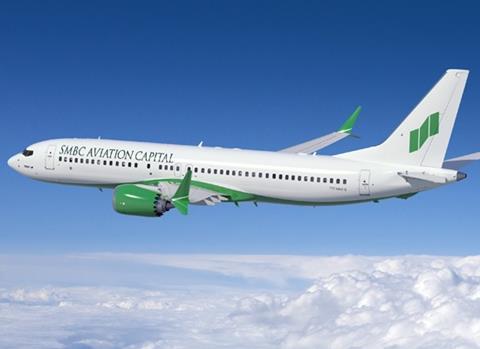 He adds that the agreement is the "right transaction" for the company, enabling it to "better serve" its customers in a "fast-evolving sector".
Twenty-four new customer airlines will become clients of SMBC as a result of the deal.
SMBC Aviation Capital shareholder Sumitomo Mitsui Finance and Leasing adds that it is "fully supportive" of the proposed acquisition, which will be financed by a combination of debt and equity.
It expects the transaction to close in the second half of this year. The combined entity, with total assets of $37 billion, will be based in Dublin and have a single corporate structure. Over 80% of the portfolio's net book value will be single-aisle aircraft.
Sumitomo Mitsui Finance and Leasing president Masaki Tachibana says the company's acquisition, 10 years ago, of SMBC Aviation Capital has proven "very successful".
Tachibana adds that Goshawk will "further cement" the company's position as a key player in the aviation financing sector, stating: "[It] will be a core component in the growth of our international business."
Goshawk confirms that its shareholders, NWS and Chow Tai Fook Enterprises, have granted approval for the acquisition.
"I am confident that this marks the beginning of an exciting chapter as market trends point to growth in aircraft leasing with great opportunities for people involved in aviation," says chief executive Ruth Kelly.