Singaporean modification and maintenance firm ST Engineering is to establish a joint venture specialising in dedicated freighter leasing, in response to increased demand for cargo aircraft.
ST Engineering's asset-management arm will equally-own the venture with partner Temasek.
Over the next five years the venture will acquire passenger aircraft – primarily single-aisle types – for conversion to freighters, aiming to hold a portfolio worth around $600 million.
ST Engineering is already a partner with Airbus in German-based EFW which carries out such conversion work, and is extending its modification capabilities to sites in Asia and North America.
"We also welcome and look forward to working with other potential like-minded partners who are looking to invest in the strong freighter aircraft leasing market," says ST Engineering president Jeffrey Lam.
He says the venture, which moves the company beyond passenger aircraft and engine interests, eventually plans to securitise leasing income through a business trust to "unlock capital".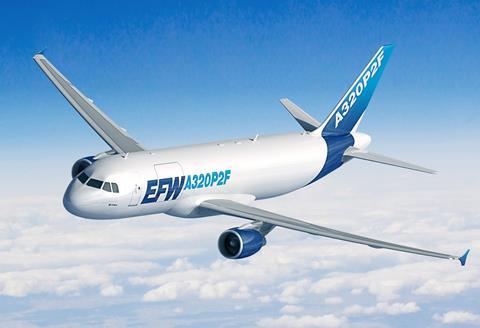 The venture plans to benefit from falling passenger aircraft values as the air transport crisis generates overcapacity pressure, enabling it to acquire feedstock, financing the purchases through a mixture of equity and debt.
ST Engineering will carry out maintenance and repair services to the aircraft within the portfolio, and serve as asset and lease manager to the venture.
Temasek head of industrials and business services Uwe Krueger says the company is "embedding sustainability" in its approach to investment, by setting environmental and social criteria and assisting potential customers with reducing carbon emissions.
This could be achieved by such strategies as use of renewable fuels and engine maintenance initiatives.
"We expect to work with like-minded partners and customers to tailor solutions that are efficient and sustainable, while being commercially viable," adds Krueger.