The crowded field of aspirants to reintroduce commercial supersonic flight has got another contender with a surprise revelation from Virgin Galactic of a proposed Rolls-Royce-powered Mach 3 delta wing jet – bearing a striking resemblance to Concorde.
Like Concorde, which last flew in 2003, the space tourism arm of Richard Branson's Virgin Group envisions flight at 60,000ft, around twice the cruise altitude of ordinary subsonic jetliners. But at M3, Virgin Galactic's nine- to 19-seater would move nearly a Mach number faster than Boom's 55- 75-seat "Overture" - also bearing a striking resemblance to Concorde and proposed to match its speed at M2.2 - and nearly three times as fast as Aerion's AS2 business jet. The other proposed supersonic project is from Spike Aerospace, whose S-512 business jet targets M1.6.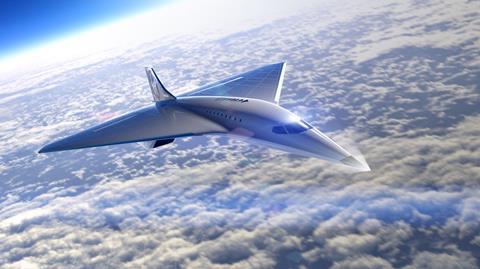 Unlike Concorde, whose noise meant supersonic flight was restricted to over-ocean routes, all of these companies' aircraft promise, through careful aerodynamic design, to muffle their sonic booms to levels tolerable on the ground.
In Rolls-Royce - the company that powered Concorde as well as supersonic fighters including Eurofighter Typhoon - Virgin shares a propulsion partner with Boom. Of the Boom project, R-R told FlightGlobal that a "large Trent core" is one possibility. For Virgin, it says: "We're exploring a range of propulsion options…and we're particularly interested in how we can make supersonic travel compatible with our sustainability goals."
GE Aviation, meanwhile, is running a programme called Affinity that may power Aerion's AS2. The company told FlightGlobal it is "reluctant to reveal the final core design until after product design review," but describes a new family of "medium bypass" supersonic engines based on current GE technology.
Virgin Galactic has not given any indication of when it expects to fly, but says it has reached an accord with the Federal Aviation Administration's Center for Emerging Concepts and Innovation office to work on a "certification framework".
Virgin Galactic's involvement in high-speed travel does not come as a surprise. Last year, Boeing bought a small, $20 million stake in Galactic which was billed as the companies working together "to broaden commercial space access and transform global travel technologies". Indeed, the prospect of exploiting Virgin Galactic's work to develop hypersonic point-to-point suborbital transport has long been on investors' radar. As long ago as 2009, Abu Dhabi's Aabar Investments, a longtime partner, had its eye on 2h flights between its home turf and, say, Los Angeles.
What is surprising in Virgin's latest announcement is that its proposed solution is a runway take-off and landing jet aeroplane - a totally different solution than the air-launched rocketplane it has been developing since the mid-2000s to carry six passengers to the edge of space on a short suborbital flight. Sub-orbital point-to-point travel would be possible at hypersonic speeds - greater than M5 - but would involve the inherent hazards of rocket propulsion.
According to Galactic's chief space officer, George Whitesides, the completion of a mission concept review "which included representatives from NASA" has allowed the company to "unveil this initial design concept of a high-speed aircraft, which we envision as blending safe and reliable commercial travel with an unrivalled customer experience."
The next phase of the project, he adds, would define specific system architectures and configurations, and determine which materials to use in the aircraft. Also addressed will be "key challenges in thermal management, maintenance, noise, emissions and economics that routine high-speed commercial flights would entail".
The move follows a dramatic period for Virgin Galactic. After some 15 years in development marked by delays and two fatal accidents – one on the ground and one in flight – 2019 opened with the hangover of celebrations from December 2018's first flight to space and safe runway landing. In February 2019 the company pushed the envelope a bit further with a second spaceflight, but the long-awaited introduction of commercial suborbital service has yet to come - from dedicated facilities at Spaceport America in New Mexico.
But first half financial results published last week pointed to two test flights planned from New Mexico this autumn. If successful, these may be followed in the first quarter of 2021 by the Richard Branson flight which Galactic has long indicated would precede commencement of paying-passenger journeys.
Financially, the past year has also been eventful. By end-2019 Virgin Galactic had listed on the New York Stock Exchange, and that financial innovation has proven invaluable to Virgin Group during the coronavirus crisis.
With Virgin Atlantic airline essentially grounded owing to the pandemic - and other Virgin Group businesses including gyms and cruises similarly hammered - some relief came with the $366 million sale of 25 million Virgin Galactic shares, about a fifth of the group's holding. That deal took group holdings in Galactic below 50%, but with 40% it remains the dominant shareholder of a company which has seen more than $1 billion in capital investment and lost money - including $123 million so far this year - throughout its history.
The proceeds from the latest share sale are understood to have been used to support other Virgin Group companies.