Swedish modification specialist Taby Air Maintenance has conducted the maiden flight of its new Saab 2000 freighter conversion.
The aircraft was rolled out from the company's Orebro airport facility on 6 March, the company says, and underwent a post-maintenance flight concentrated on system tests.
TAM states that the turboprop has been in its workshop since autumn last year, undergoing not only the freighter conversion but also an avionics upgrade and routine maintenance.
"The flight went well, with all systems working as expected," it adds. Further flight-testing is set to begin within a few days.
TAM has developed the Saab 2000F conversion for the aircraft in co-operation with Miami-based Jetstream Aviation Capital, which will be the launch customer.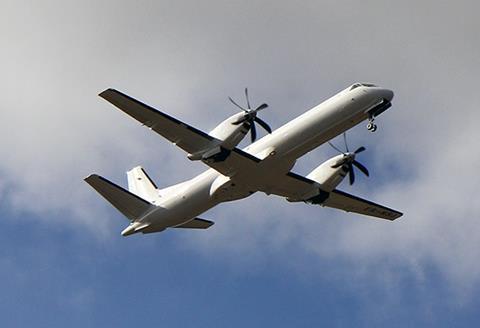 "Despite some delays in the conversion process, I am glad to see that we now are back on track," says TAM managing director Par Gulle.
The company already performs cargo conversion of the smaller Saab 340 turboprop.
Gulle says the 2000F has been developed with features to maximise operational effectiveness, and that – combined with the 340 freighter – the company can meet "any need for a profitable regional cargo aircraft".
TAM's first 2000F carries the Estonian registration ES-NSJ.
Cirium fleets data indicates it was originally delivered, as a passenger aircraft, to Swiss operator Crossair in 1996, and that Jetstream will lease the cargo model to Estonia's NyxAir.