Pan-European air navigation organisation Eurocontrol is pursuing an initiative for solidarity funds aimed at assisting member states affected by the Ukrainian conflict.
The voluntary funds will be established to assist, in particular, Ukraine and Moldova as well as the Baltic states and Poland.
Eurocontrol says Ukraine and Moldova will receive a donation of €46.5 million ($48.7 million) while Poland and the Baltic countries – Estonia, Latvia and Lithuania – will obtain a loan of €46.1 million.
The organisation says the funds are to ease pressure on countries facing crises "beyond their control".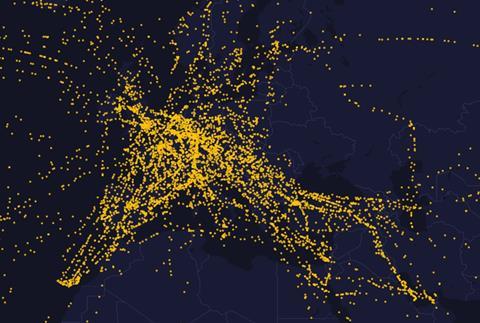 Ukraine and Moldova have suffered a loss of air navigation revenues as a result of airspace closures and traffic re-routing.
"This decision allows us together to take collective action to provide support and funding to ensure the longer-term viability of air traffic control in any state that is impacted in such a way now and in the future," says Eurocontrol director general Eamonn Brennan.
Funds will be used to cover staff and training costs and other expenses needed to ensure operational readiness and continuity once air traffic recovers.