United Aircraft is examining the potential to increase Tupolev Tu-214 production in order to help meet demand for new aircraft in Russia following the sanctions imposed on the country's air transport industry.
Russian deputy prime minister Yuri Borisov visited the production facility in Kazan on 22 March, to discuss whether the plant could gradually increase annual output at least to 10 Tu-214s.
Powered by Aviadvigatel PS-90A engines, the twinjet type is still being manufactured in a specialist version for the government, but the build rate is low. The Tu-214 has just passed the 26th anniversary of its March 1996 maiden flight.
"The urgent matter is to restore production of domestic models to the quantity required, so that we do not experience difficulties with the transportation of Russian citizens within the country and overseas," said Borisov during the visit.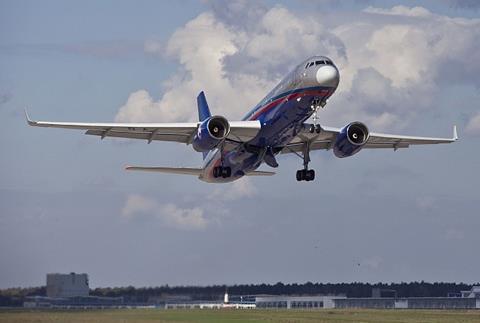 United Aircraft chief Yuri Slyusar and Tupolev general director Vadim Korolev were among the participants in the production discussion.
"We have not stopped producing [the Tu-214] and we are ready to fulfil the tasks set under the new conditions," says Slyusar.
He points out that the Kazan plant, which has been undergoing modernisation, has the "necessary production facilities and competencies" to build passenger variants.
But he also acknowledges that the facility needs to attract qualified personnel to meet an increased production programme – a potentially difficult issue which Slyusar has previously highlighted.
At a parliamentary meeting towards the end of last year Slyusar stated that the recruitment and labour issue presented a "serious challenge" and was "not easy" to address.
Commercial services with Tu-214s began in May 2001 with Khabarovsk-based Dalavia, and the type was subsequently introduced at airlines including KrasAir and Transaero.