United Aircraft has conducted the maiden flight of its latest Ilyushin Il-96-300, the second of the type to start flight-testing this year.
The aircraft (RA-96025), powered by Aviadvigatel PS-90A engines, lifted off from the Voronezh production plant's airfield on 5 August.
Its crew performed initial stability and controllability tests on the jet during the 2h flight, says the airframer, along with preliminary operational checks on its powerplants and other systems.
United Aircraft says the aircraft, featuring modernised flight-control and navigation equipment, was flown at altitudes from 5,000-9,000m (16,400-29,500ft). Radio systems for approach were also tested during the descent.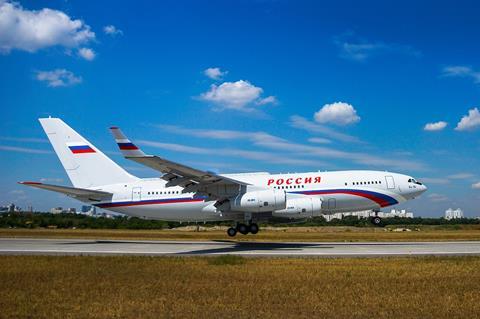 The flight comes four months after a similar initial sortie by sister aircraft RA-96024. Both have been manufactured for the Russian government.
United Aircraft has also disclosed that, on the same day as the Il-96 flight, it delivered two newly-built Tupolev Tu-214s to their customer.
The twinjets – also fitted with PS-90A engines – were manufactured at the production facility in Kazan.
"[They] are equipped with a new and improved interior that meets the most modern standards," says the airframer. It has not identified the customer but the aircraft are likely to be among those bound for the government's special flight detachment.