United Airlines is pushing back its plans to return to New York's John F Kennedy International airport by one month as the coronavirus crisis continues to disrupt US air transport.
The Chicago-based carrier says that instead of launching flights from JFK to the West Coast on 1 February as previously planned, they will begin four weeks later.
In addition, the airline said it will begin with just one daily round-trip each between JFK and San Francisco International airport and Los Angeles International airport, instead of the two each that it had scheduled.
United says it hopes to double the frequency to two round trips per day by the end of March.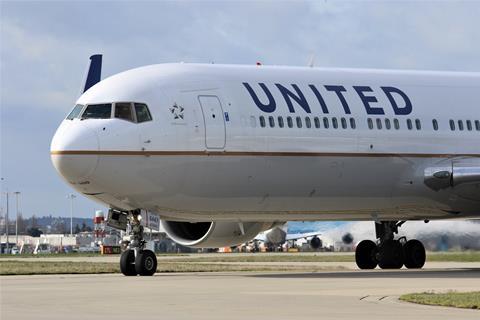 "Due to new travel restrictions and the continued impact of Covid-19 on customer demand, we are delaying the start of our service between New York's JFK Airport and our hubs in San Francisco and Los Angeles until February 28, 2021," the airline says.
"Throughout the pandemic, United has been a leader in nimbly reshaping our schedule, and we look forward to offering this convenient service and a best-in-class product from New York City to the west coast in the coming weeks," it adds.
The airline's announcement in November marked a notable shift in strategy for United, which had consolidated most of its New-York-area flying at its Newark Liberty International airport hub, about 30mi (48km) west of JFK.
United flies to more than 130 international and domestic destinations from Newark, the second-largest of the region's three commercial airports. LaGuardia airport, from which the airline operates flights to nine US destinations, is the third.
It is the first time since 2015 that United will be departing from JFK. It had said in November that it will operate the flights from Terminal 7, using a reconfigured Boeing 767-300ER with 46 business-class seats, 22 "Premium Plus" seats – United's premium-economy product – and 99 economy seats, including 47 with extra legroom.