Preliminary proposals have been unveiled for a vertiport adjacent to Dubai's main international airport, which would handle future air taxi services.
The terminal concept has been put forward by vertiport technology specialist Skyports Infrastructure and architecture firm Foster & Partners.
Skyports Infrastructure and the Dubai road and transport authority are considering four initial locations for vertiports in the area.
The sites are part of an envisaged network for eVTOL aircraft connecting the emirate's most popular areas, offering high-speed and zero-emission transport from 2026, integrating with such strategic locations as metro and airport hubs.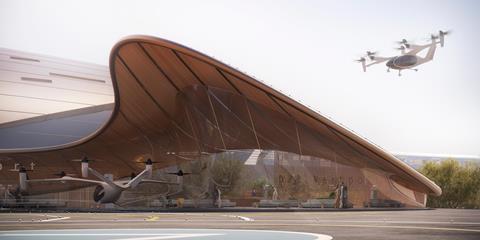 Foster & Partners says the terminal features an elevated platform for aircraft arrival and departure.
"The building wraps around the airfield, connecting the arrival and departure lounges and offering spectacular views of the aircraft and the city beyond," it says, adding that the roof and facade design protects the building from direct sunlight.
According to Foster & Partners head of studio David Summerfield, the provisional design has been endorsed by Dubai's ruler, Sheikh Mohammed bin Rashid Al Maktoum. Summerfield says the airport vertiport would "transform" passenger movement by providing "seamless, sustainable travel" across the city.