Seven Brazilian airports, including Manaus Eduardo Gomes, are to be operated by French firm Vinci Airports following a call for tenders by the South American state's civil aviation regulator.
Alongside the 30-year concession for Manaus the company has secured the management of six other northern airports at Porto Velho, Rio Branco, Boa Vista, Cruzeiro do Sul, Tabatinga and Tefe.
Manaus accounted for 3 million of the total 4.7 million passengers handled by these airports in 2019, before the onset of the pandemic.
Vinci says it will "transform" the airports into "eco-efficient infrastructures", through the installation of photovoltaic farms, biodiversity laboratories, carbon-sink projects, with a zero-emissions target.
This work will be carried out along with the modernisation of terminals and runways, and other aspects of managing the facilities.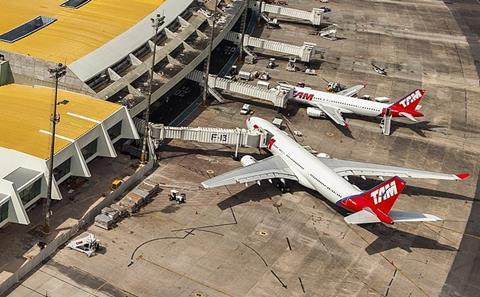 Vinci already operates the north-eastern Salvador Bahia airport and says it will "build on the successful environmental policy" adopted over the past three years.
"Our roadmap is clear," says Vinci Airports president Nicolas Notebaert. "Green airports for green growth."
The company aims to assist Manaus's recovery from the pandemic with development of passenger and cargo activity.
While Manaus edges into the top 20 Brazilian airports for passenger numbers, Vinci says it is the country's third-busiest for freight.
"Manaus plays a key role in the country's economy, in particular for the high-growth electronics industry," it states, describing it as a "pillar" of development for the Amazonian region.
Vinci will manage 16 Latin American airports – across Brazil, Chile, Costa Rica and the Dominican Republic – as a result of the concession.
The company paid R$420 million for the seven Brazilian airports, according to ANAC.
Its concession package was one of three assigned by Brazilian authorities. The company Companhia de Participacoes em Concessoes secured the other two.
These two packages comprised a southern group of nine airports – including Curitiba and Foz do Iguacu – acquired for R$2.1 billion and a central group of six, among them Goiania and Teresina, for R$754 million.