Germany's Volocopter has participated in a test flight from an Italian vertiport being developed at Rome Fiumicino airport.
The crewed test flight, carried out on 6 October, is part of a programme to enable air mobility services between the airport and the Italian capital by 2024.
It involved an electric Volocopter 2X operating at a height of 40m while flying a figure-eight flightpath during the public demonstration.
Volocopter chief commercial officer Christian Bauer says the company has progressed from a partnership agreement to flight-testing at a major airport in less than a year.
The test was a collaboration with airport operator Aeroporti di Roma, its joint-venture infrastructure provider UrbanV, and strategic transport holding firm Atlantia.
"Significant progress has been made on flight technology, vertiport design, and the regulations necessary to enable the first advanced air mobility services," state the partners.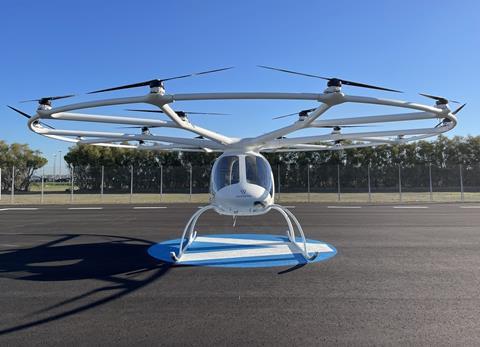 Italian civil aviation regulator ENAC had cleared the test flight, which aimed to Illustrate the potential for emission-free air taxi services in urban areas.
The infrastructure is located in an area of 5,500m² and features and approach and take-off zone, covered hangar, and test facilities for ground-handling and various eVTOL charging technologies.
"We are creating a new kind of sustainable mobility that did not exist until a few months ago," says Atlantia chair Giampiero Massolo.
"By collaborating with the related institutions, we aim to open up the service to the public at Fiumicino, before extending it to the other airports in which we have invested by 2024."
The test also enabled exploration of a digital platform, VoloIQ, to support the flight operations and booking.
"Opening of the first vertiport in Italy and flying the first eVTOL crew represent a remarkable step towards the activation of the first [air mobility] routes," says Aeroporti di Roma chief Marco Troncone.
UrbanV chief Carlo Tursi adds that the programme will position Rome as "one of the first" European cities to offer seamless electric aircraft connections.