Wet-lease and charter specialist SmartLynx's Maltese division is to lease a pair of Airbus A321s which have been converted to freighters.
SmartLynx Malta says it will lease the twinjets – MSN891 and MSN1017 – from Vallair in order to enter the freighter market.
It adds that it holding discussions for further aircraft, with a view to venturing "deeper" into the sector by acquiring up to 10 A321s by 2023.
The aircraft have undergone conversion by separate companies, US-based 321 Precision Conversions and the German-based EFW.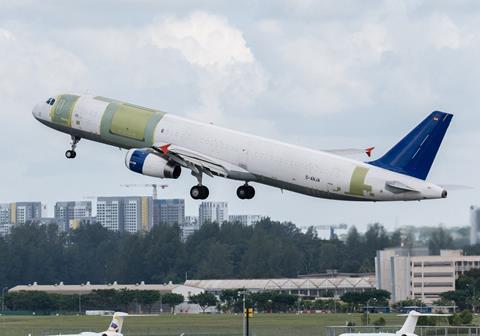 "Both are high-quality products and – despite minor differences in direct operational costs – [we] decided to go with both [conversions] to be able to offer its customer flexibility to compare and choose according to their requirements," says SmartLynx Malta.
The operator says it looked at 737 conversions, across several variants, but states that the A321 was the "clear choice" – having commonality with the rest of its fleet and "favourable" emissions levels.
"After the passenger market recovery, we will have one of the most competitive passenger [and] cargo platforms on the continent," says SmartLynx chief executive Zygimantas Surintas.
MSN891 was originally delivered to Swissair in 1998, while MSN1017 was handed to First Choice Airways the following year. Both airframes are fitted with CFM International CFM56 engines.
"We look forward to seeing the A321Fs flying in Europe," says Vallair chief leasing and trading officer Alistair Dibisceglia.
SmartLynx will based the jets in Malta and operate them on behalf of an international freight forwarder.
"With the surge in demand for air cargo as a result of the pandemic, and the availability of feedstock, we believe that the A321F will be the future of e-commerce and satisfy market demands for the next 20 years," adds Dibisceglia.