Russian analysts have developed an improved model for a proposed blended-body twinjet passenger aircraft, which is to be submitted for research and testing.
Studies of potential "flying wing" configurations have been examined for several years, using models with various tail and engine designs, says the Moscow-based Central Aerohydrodynamic Institute.
Previous windtunnel testing has revealed "unfavourable" aerodynamic interference at the engine nacelles, it says, and the designs have been refined to optimise the configuration and eliminate the adverse effects caused by the interaction of nacelle, pylon and wing.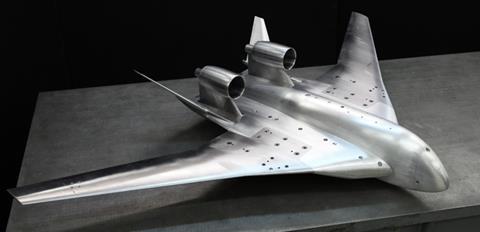 The latest design, while not a fully-blended design in the forward fuselage, allows greater passenger capacity and improves upper-surface aerodynamics in relation to the engines, the institute says.
It comprises a two-deck fuselage arrangement and will offer "dramatically reduced" noise as a result of shielding effects, it adds.
The 1:33 scale model, built of steel and aluminium alloys, is about 1m in length with a wingspan of 1.8m, featuring a V-tail and two aft-mounted engines.
Testing of the model will commence in a windtunnel shortly, enabling researchers to examine its characteristics during cruise flight and study the impact of the engine layout.