Aerion Supersonic has teamed up with Electra.Aero to together develop what they call a "global mobility ecosystem".
The companies say on 15 October that Electra, currently working on electric short takeoff and landing (eSTOL) aircraft, will become one of Reno-based Aerion's preferred partners. The two companies signed a memorandum of understanding to "explore an integrated, high-speed experience".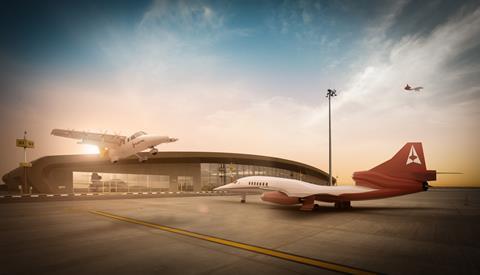 "Aerion and Electra offer the perfect combination of speed and convenience" says Electra chief executive John Langford. "Electra's powered-lift aircraft can bring air service to areas of less than 100ft. This will open new opportunities to connect urban, suburban, and remote areas."
Aerion chief executive Tom Vice adds that Electra's new generation of aircraft "with their large cabin, optimal range, speed and emissions capabilities, will integrate seamlessly into our vision of the future".
"Aerion intends to develop a global mobility ecosystem, supported by leading global partners, that integrates and connects the point of departure to the point of destination, optimized for high-speed travel with different, innovative modes of transportation," the company says, without offering further details.
Also on 15 October, Aerion says it selected paints, coatings and speciality materials company PPG to provide the flight deck windshields and cabin window transparencies for its Supersonic AS2 in-development high-speed business jet, an 8-10-passenger jet that Aerion hopes will achieve first flight in 2024 followed by service entry in 2026.
Last month, Aerion announced that UK aerospace company BAE Systems will develop the fly-by-wire flight-control system for the AS2.
The company also began windtunnel testing the AS2 in September, marking a milestone in the development of the supersonic jet.
Aerion plans to manufacture 300 aircraft during its first 10 years of production. The AS2 will be the first aircraft to be assembled at the company's new global campus in Melbourne, Florida, dubbed Aerion Park.