Airbus plans to build a new A320 final assembly facility in Mobile, Alabama, and to have the site operating by the second quarter of 2025.
The Toulouse-based airframer disclosed the timeline and other details on 9 May.
Last week, Airbus chief executive Guillaume Faury revealed that the company planned to open a second A320 final assembly line (FAL) in Mobile, but he provided no details.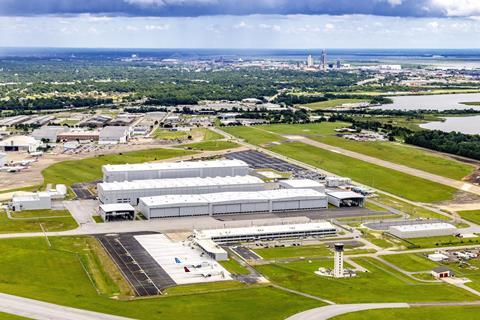 "Current plans call for breaking ground on the new FAL in the first half of 2023," Airbus now says. "We expect to start production within the new FAL by Q2 of 2025."
The new "building" will have 32,516sq m (350,000sq ft) of space and employ about 1,000 people, Airbus says.
Additionally, by the end of 2023 Airbus intends to build a new paint facility in Mobile and to modify its existing hangars to what it calls a "double-bay configuration".
The paint shop and hangar modifications will "support increased production at the site," Airbus says.
The company now has one A320 final assembly line and one A220 final assembly line in Mobile.
Airbus Americas CEO Jeff Knittel disclosed details about the expansion during an event in Mobile on 9 May.
Also last week, Faury said Airbus intends to ramp A320neo-family production to 65 jets monthly by summer 2023, and to 75 monthly in 2025
Airbus delivered an average of about 37 A320neo-family jets in the first three months of 2022.