Airbus has reached an agreement to open a second A320 family final assembly line in Tianjin during a French state visit to China.
The European aircraft manufacturer opened a final assembly line in Tianjin in 2008, one of four for the A320 family alongside those in Hamburg, Toulouse and Mobile in the USA. It has since assembled more than 600 aircraft from the Chinese plant and last month local carrier Juneyao Air took delivery of the first A321neo completed in Tianjin.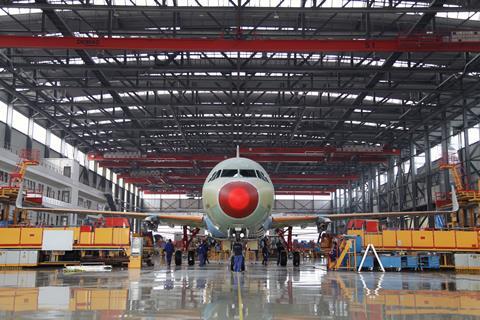 Airbus chief executive Guillaume Faury has signed an agrement with the Tianjin Free Trade Zone Investment Company and Aviation Industry Corporation of China to expand A320 family final assembly capacity with a second line at its Tianjin site. The agreement will contribute to Airbus' target of increasing single-aisle aircraft production rates to 75 per month in 2026.
It has also signed a general terms of agreement with the China Aviation Supplies Holding Company covering the purchase of 160 jets. This comprises earlier announcements covering 150 A320 narrowbody and 10 A350-900 widebody aircraft orders.
Faury says: "We are honoured to continue our long-standing cooperation by supporting China's civil aviation growth with our leading families of aircraft. It underpins the positive recovery momentum and prosperous outlook for the Chinese aviation market and the desire to grow sustainably with Airbus' latest generation, eco-efficient aircraft."
Airbus has also signed a memorandum of understanding with the China National Aviation Fuel Group (CNAF) to intensify Chinese-European cooperation on the production, competitive application and common standards formulation for Sustainable Aviation Fuels (SAF). The partners last September contracted to support commercial and delivery flights in China using SAF and had facilitated 17 delivery flights and a first commercial flight as of the end of March.