Aircraft lessor BBAM Limited Partnership has placed orders with Boeing for the conversion of six additional 737-800s into the Boeing Converted Freighter configuration.
San Francisco-based BBAM has also taken options with Boeing for an additional six 737-800BCF conversions, part of a deal reflecting the strength of the e-commerce market, Boeing says on 19 January.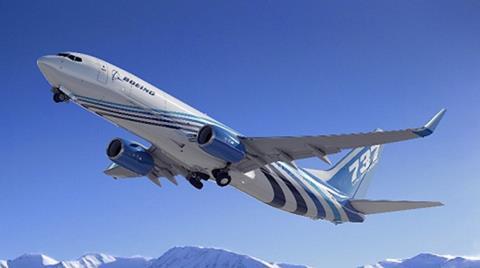 With the deal, BBAM has ordered or taken options on 15 737-800BCFs. The company's portfolio of jets includes 132 737-800s and two 737-800BCFs, according to its website.
Neither Boeing nor BBAM say when the jets will be delivered. Also unclear is whether BBAM intends to convert passenger 737-800s already in its fleet. However, Boeing has said previously that BBAM's earlier 737-800BCF orders would be fulfilled using jets already in its fleet.
BBAM did not immediately respond to a request for more information.
Boeing says 737-800BCFs are "primarily used to carry express cargo on domestic or short-haul routes". The modified jets, which entered service in 2018, can carry 23.9t of cargo on routes up to 2,025nm (3,750km).
Boeing has landed more than 150 737-800BCF orders and commitments, the Chicago-based airframer says.
"The continued strong demand for the 737-800BCF demonstrates the critical role these converted freighters play in the growing express and e-commerce market," says Boeing senior vice-president of commercial sales and marketing Ihssane Mounir.