Boeing has added to its board another executive with aerospace experience as part of the airframer's settlement of 737 Max-related claims brought by two major shareholders.
David Gitlin, a longtime aerospace executive who now heads air conditioning company Carrier, is Boeing's newest board member, the airframer says on 21 June.
Gitlin does not replace an existing Boeing board member but rather fills a new seat on Boeing's board, which now has 12 members, up from 11.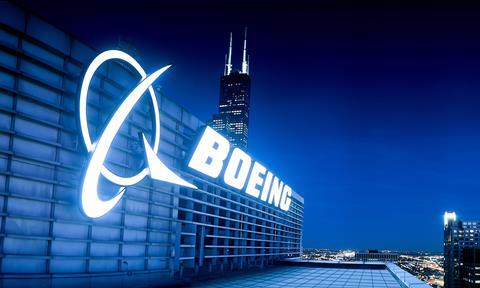 Boeing says Gitlin, as part of his board responsibilities, will also join the board's Aerospace Safety Committee and its Finance Committee.
The addition of Gitlin "fulfills" terms of a settlement Boeing reached with shareholders in March, the company says.
The settlement relates to lawsuit filed in a Delaware court against Boeing board members by two major shareholders: the New York State Common Retirement Fund and the Fire & Police Pension Association of Colorado.
The suit relates to two 737 Max crashes and the resulting fallout. The shareholders alleged that Boeing's board violated its fiduciary duties by "dismantling Boeing's lauded safety-engineering corporate culture," according to New York State.
The settlement required Boeing to adopt "enhanced safety and oversight protocols", including that Boeing supplement its board with an additional director who has "aviation, engineering or product safety oversight expertise", the settlement says.
The settlement also required Boeing board members' insurer to pay Boeing $237.5 million.
Gitlin's experience includes time as chief operating officer of Collins Aerospace, a role in which he helped oversee the combination of UTC Aerospace Systems and Rockwell Collins. Earlier, he was president at UTC and held positions at Hamilton Sundstrand and Pratt & Whitney.
Boeing created its Aerospace Safety Committee in 2019 in response to the 737 Max crisis.
Other Boeing board members on the committee are Stayce Harris, the former US Air Force inspector general and a former United Airlines pilot, former GE Aviation chief David Joyce, former Continental Airlines CEO Lawrence Kellner, and former US Chief of Naval Operations John Richardson, according to Boeing.
Story headline changed on 22 June 2022 to have the correct spelling of Gitlin's name.