Boeing believes it will resume 737 Max deliveries in the third quarter of 2020, with chief executive David Calhoun saying the company is progressing well through certification work despite challenges posed by coronavirus.
"We currently expect the necessary regulatory approval to allow Max deliveries in the third quarter," Calhoun says on 29 April. "We are very confident that the process will conclude with the… certification."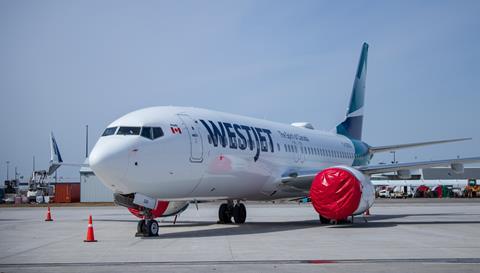 Boeing is now working through what Calhoun describes as "a mountain" of documentation work. He says the certification pace has been hampered by the coronavirus pandemic, which has forced staff to work from home.
Boeing expects to resume 737 Max production this year at "low rates". It does not specify initial production volumes but says production will "gradually increase" to 31 aircraft monthly in 2021, with additional increases to follow.
"The slower production rate ramp-up reflects commercial airline industry uncertainly due to the impact of COVID-19" and the pace at which Boeing is able to deliver the roughly 450 Max in storage, Calhoun says.
Boeing produced those 450 jets since the grounding in March 2019, but has been unable to deliver them during the grounding.