Boeing says it delivered 13 jets in August, bringing it to a total of 87 deliveries in 2020.
Detailing its August orders and deliveries on 8 September, the Chicago-based airframer says it also booked eight new orders – including five for its beleaguered 737 Max - to bring its total orders in 2020 to 67. It had 20 cancellations during the month, including 17 737 Max.
It is the seventh month in a row that cancellations outpaced new orders.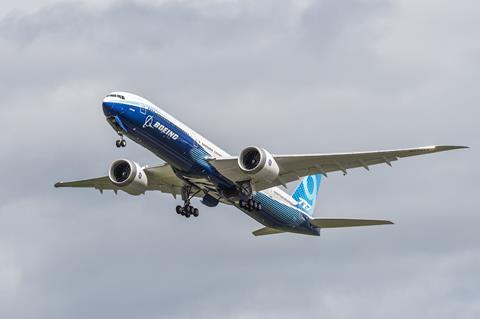 The airline is dealing with a growing list of challenges, including the grounding of the 737 Max, the economic downturn caused by the coronavirus pandemic, as well as recently made public issues that could affect some Boeing 787 Dreamliners manufactured in its Charleston, South Carolina plant.
"The market and logistical challenges from Covid-19 continue to affect our commercial airplane orders and deliveries, as we work closely with our customers on their fleet requirements," the airframer says.
"Separately, our quality assurance programme identified distinct issues in the joint of 787 aftbody fuselage sections, as well as on the horizontal stabilizer," Boeing says.
On 7 September, media had reported that the Federal Aviation Administration had launched an investigation into lapses of quality control at the company's Charleston factory.
The two issues appear to be "nonconforming" rear fuselage sections, as well as how the company produces shims for the 787 at Charleston.
"We are taking time to thoroughly inspect completed 787s to ensure that they are free of the issues and meet all engineering specifications prior to delivery," Boeing says. "We expect these inspections to affect the timing of 787 deliveries in the near-term."
737 MAX ORDERS
The eight orders during the month of August were for five 737 Max airplanes, two of which are destined for Polish charter carrier Enter Air and were announced last month, and three are for an unidentified customer.
In addition, three 777 freighters were ordered by EVA Air, conversions from 787-10 orders, the company announced on 31 August. The Taiwanese airline had said last week it had reached an agreement with Boeing to exchange seven of its 787-10 orders yet to be delivered for four 787-9s and three 777Fs.
Boeing's deliveries in August included two P-8A Poseidons maritime patrol aircraft, five widebody freighters, of which two are 767 freighters destined for FedEx, three are 777s with one each going to DAE Ireland, Lufthansa Cargo and FexEx.
In addition, two KC-46A Pegasus tankers were delivered, and four 787-9s were delivered – two to United Airlines, one to Vistara and one to ANA.
To date this year, Boeing has delivered 11 737s (including NG and military variants) one 747, 19 767s, 14 777s and 42 787s.
Boeing says it had 17 cancellations for the 737 Max during the month of August. Of those, nine had been destined for AerCap, two for Aviation Capital Group, two for Icelandair, one for GECAS, and three for unidentified customers.
In addition to the cancellations, Boeing reduced its backlog by another 74 737 Max and 10 787s to align with "ASC 606" accounting adjustments.
Though Boeing still holds contracts to sell those jets, the company does not expect the deals will close due to differing factors, including the financial condition of the customers
Including the eight new orders, 13 deliveries, 20 cancellations and 84 downward accounting adjustments, Boeing's backlog in August declined by 109, from 4,496 jets to 4,387 jets.
Boeing this year has booked 67 orders altogether, but its net figure for 2020 is negative to the tune of 932 aircraft, owing to cancellations, accounting adjustments and order conversions.