Boeing confirms an employee at its facility in Everett, Washington, home to its widebody production plant, has tested positive with COVID-19, the disease caused by the coronavirus.
"Boeing is providing its full support to an employee at our Everett facility who has tested positive for COVID-19," the company says in a statement. "The employee is now in quarantine receiving the care and treatment necessary for their recovery."
Boeing has "asked all coworkers of the employee who were in close contact to remain home to self-quarantine and self-monitor, and we've conducted a thorough cleaning of the work areas and common spaces", the company adds.
Production has not been impacted, Boeing says.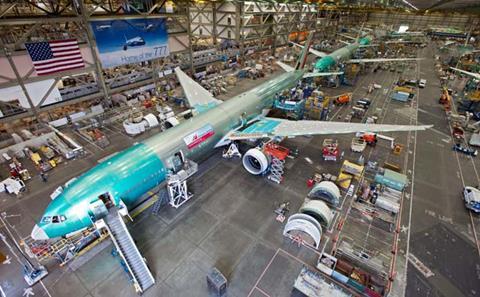 Boeing last week confirmed an employee "on the 777 production line became ill with some flu-like symptoms".
At the time, Boeing said it had "asked about 10 teammates who were in close contact during second shift to also go home".
Seattle is among several areas of the USA dealing with coronavirus outbreaks.
Boeing says other workers have been tested.